Stars come out in force as Qatar 'gears up' for F1 race weekend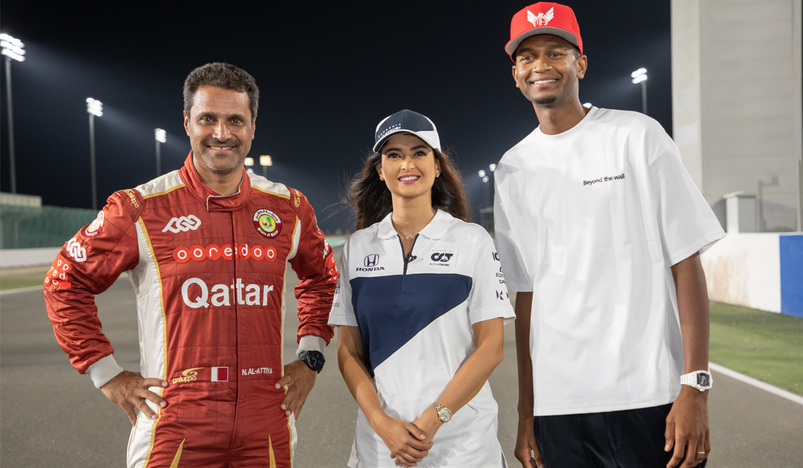 Qatari Olympic Gold medallist Mutaz Barshim, three-time Dakar Rally winner Nasser Al Attiyah, and French World Cup winner Marcel Desailly
The Qatar Motor and Motorcycle Federation (QMMF) has today launched a campaign across its social media channels to engage the community in motorsports in Qatar and urge fans to buy the last remaining tickets for the 2021 Formula 1 Ooredoo Qatar Grand Prix.
The "Losail Star Power" campaign taps into Qatar's deep reservoir of local and international stars from across the world of sport and entertainment for a head-to-head fastest lap contest at the Losail International Circuit. The stars include Qatari Olympic Gold medallist Mutaz Barshim, three-time Dakar Rally winner Nasser Al Attiyah, and French World Cup winner Marcel Desailly.
Videos of the competition will be posted all week at the @losailcircuit and @QMMF_official accounts on Twitter and Instagram before the winner with the fastest time is declared.  
In just two weeks from now, the lights at the Losail International Circuit will turn green for the 2021 Formula 1 Ooredoo Qatar Grand Prix. The race weekend, which runs from 19-21 November, will include three days of racing, an airshow, a dedicated fanzone with activities, catering options for every taste, plus a range of other entertainment options [QMMF to provide additional details]. 
QMMF's Executive Director Amro Al-Hamad, said: 
"This campaign is all about seizing the opportunity we have with F1 to promote motorsports in Qatar and generate excitement before the race action begins on 19 November. Formula 1 is one of the most popular sports in the world, and to host a race in Qatar further cements Qatar's position as a world-class venue for global sporting events."
Commenting on the Star Power campaign, Al-Hamad said: 
"I'd like to thank all of our guests for taking part in this campaign. We want to involve our local community in F1 through our social media platforms, where they can learn more about Formula 1, the upcoming race, and motorsports in general. There are still limited F1 tickets available at the Losail International Circuit website for people who want to come and enjoy the race."
Qatar is hosting a Formula 1 race for the first time, after stepping in at short notice to ensure a full F1 race calendar for the 2021 season. There will be no race in 2022 as it coincides with Qatar's hosting of the 2022 FIFA World Cup. The race will return to Qatar in 2023 and take place for the next 10 years until 2032.
Tickets are available at the Losail International Circuit website: https://tickets.circuitlosail.com/
The full list of talent competing in the 'Losail Star Power' campaign includes: 
•    Qatari Olympic high jump gold medallist, Mutaz Barshim
•    Three-time Dakar Rally winner, Nasser Al Attiyah
•    Al Jazeera Anchor, Ola Al-Fares
•    Former France footballer and World Cup winner, Marcel Desailly
•    Australian football legend and Aspire Academy Chief Sports Officer, Tim Cahill
•    Al Duhail striker and Qatar football international, Moez Ali
•    Qatari Olympic rower, Tala Abujbara
•    Racing driver and motorsports influencer, Archie Hamilton
•    Former Netherlands footballer and BeIN Presenter, Nigel de Jong
•    Egypt football icon Mohamed Aboutrika