South Korea's Capital Seoul Hit By Worst Storm in 80 Years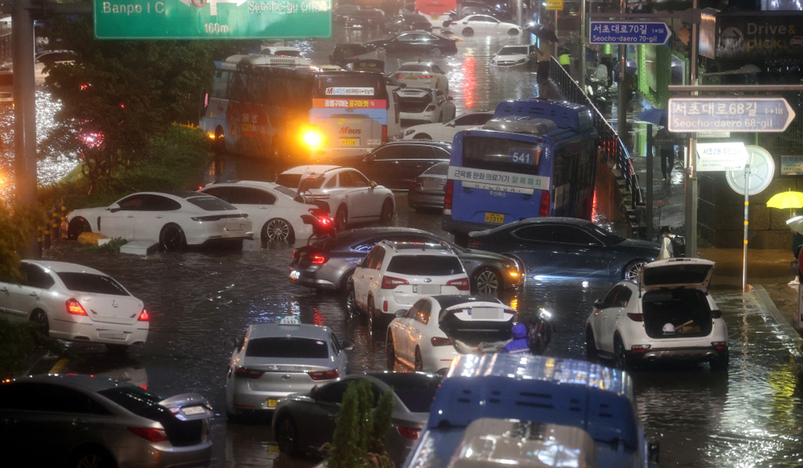 Seoul floods
At least eight people were killed and six people missing in the Seoul area after one of the heaviest rain storms in 80 years hit the South Korean capital, flooding streets and subway stations and prompting the country's president to call an emergency meeting.
The storm dumped as much as 141 millimeters (5.5 inches) of water an hour in parts of the region. Another 300-350 millimeters of rain is forecast to fall through Thursday, the Meteorological Administration said, adding to the risks of more flooding. 
President Yoon Suk Yeol convened an emergency meeting at the country's National Disaster and Safety Status Control Center Tuesday.
"I urge authorities to implement all-out measures until the situation comes to an end to protect the lives and property of the people," Yoon said. The presidential office earlier encouraged companies and government offices to adjust working hours for employees. 
The torrential rains that started on Monday and went into Tuesday also caused flooding in parts of the city center, turning some parking lots into ponds. Train and subway services were suspended on several lines, while numerous businesses asked their employees to work from home.
The hourly rain fall figures were the highest since a storm in 1942, Yonhap News Agency reported. Some areas of Seoul received more rain in one day than they typically see in an entire month in the summer, according to data from South's weather agency.
At least 163 people lost their homes and 751 buildings were flooded, the interior ministry said, adding that at least 11 ministries were involved in the government's response to minimize the damage. 
South Korea will discharge waters on Wednesday from Soyang Dam, the largest dam with 2.9 billion tons of water-holding capacity, for the first time in two years. It would be the 17th discharge since the dam was built in 1973, according to the Korea Water Resources Corporation.
Parts of neighboring Japan were hit by torrential rains this week that triggered landslides and caused dozen of rivers to overflow their banks. Parts of the country were under storm surge advisories on Tuesday.
North Korea has also been hit by heavy rain that threatens farms and forests, its official media said.