Snoonu App and HUAWEI Partnership Strengthen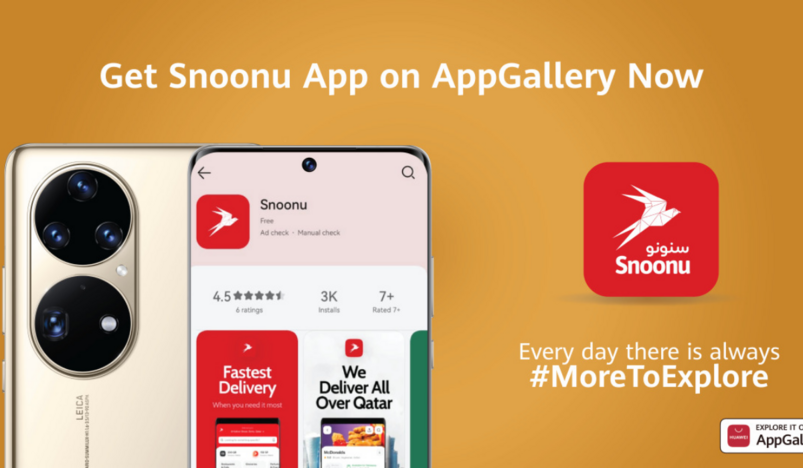 Snoonu is now Available for Huawei Users on AppGallery
Doha, Qatar, 26th February 2022: Huawei, one of the leading global technology company, and Snoonu, Qatar's leading local food delivery and q-commerce platform, announced expanding it's long-term brand cooperation to release Snoonu application on AppGallery. The two companies are now working together to deliver deeper engagement with the growing user-base, as Snoonu's target to expand and reach a bigger segment in Qatar, and AppGallery continues to grow into the world's fastest-growing app marketplaces. 
The addition of Snoonu reflects the rapid growth in popularity of  AppGallery among consumers, businesses and developers in the MENA region. Thus, the release of the Snoonu application will allow an untouched segment of potential customers to take full advantage of the Snoonu application. 
Hamad Alhajri, Snoonu's Co-Founder and CEO, said "We are proud to announce that the Snoonu application has now been added to Huawei AppGallery. They can now enjoy our services; whether it's ordering their favorite food or an urgently needed medicine from a pharmacy. Snoonu has it all."
This is the start of a long-term partnership between the two companies. Huawei store has joint Snoonu becoming one of its technology merchants, now Snoonu customers can purchase and enjoy the latest HUAWEI smartphones, tablets, wearables and TWS.
Steven Li,President, HUAWEI Consumer Business Group, Middle East Multicountries, said, "As the heart of our in-house ecosystem, the AppGallery is constantly growing; and through this distribution platform, we are committed to offering consumers premium, enhanced, and intuitive experiences. Nowadays, people are relying on smartphones to fulfil their everyday shopping needs, minimize contact and make things simpler, and Snoonu App helps users achieve this."
Snoonu is Qatar's home-grown success story that aims to be the first local Unicorn company. With over 300,000 users, Snoonu plans to expand and diversify its offerings by adding new features and services to its platform, with a goal to enter international markets, including the Middle East and CIS.
After securing a $5 Million of investments during the Series A Funding round in April 2021, Snoonu plans to continue its growth and launch the Series B round in February 2022, with the goal to launch its IPO by 2024 and to further diversify its offer with payments and supply chain digitization solutions, transport, and global takeaway services.
AppGallery has concentrated its efforts in working with developers on both a local and global scale to bring the most relevant apps to users, boosting the number of developers working with the platform and delivering more choices to consumers worldwide. The Huawei Mobile Services (HMS) ecosystem has seen a surge in apps integration, with more than 141,000 applications currently available¹ and over 4.5 million developers registered on the HMS platform.
About Snoonu 
Founded in 2019 by Hamad Al Hajri, entrepreneur and startup expert with over 20 years of experience in business innovation, Snoonu aims to revolutionize the Qatari market with the fastest services and the most diverse marketplace, facilitating online shopping, lifestyle, food, grocery delivery, and third-party logistics services for startups and SMEs in Qatar.
In January 2021, Snoonu launched its own 24/7 online grocery store, Snoomart, offering a wide range of locally sourced products and supporting Qatar's merchants. Due to its phenomenal performance, Snoonu was awarded a 'Resilience Award' in the Fikrah National Business Competition presented by QDB Bank.
Leveraging the most advanced technology to create seamless consumer experience, Snoonu teamed up with Microsoft to migrate its services to Microsoft Azure Platform, boosting their efficiency and productivity.
Snoonu aims to become a leader in delivery services, and the first super-app in Qatar with plans to expand internationally.