Showtime! Broadway-style musical showing at Education City from June 11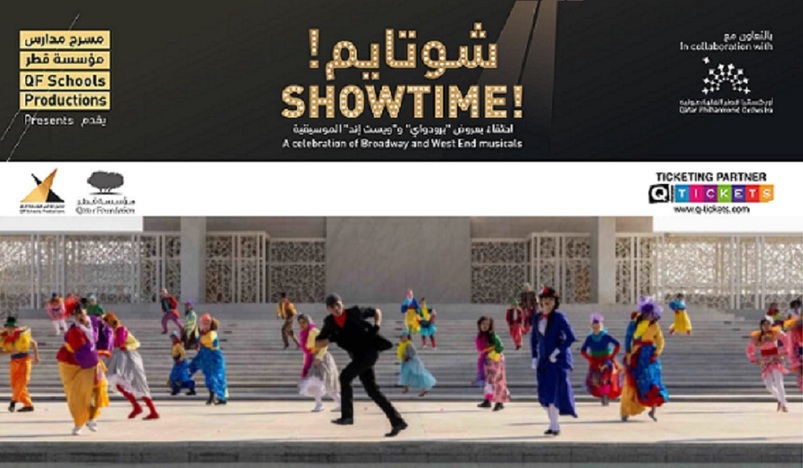 Showtime! in Qatar
Qatar Foundation's SHOWTIME! has taken the spotlight at Cannes Film Festival, EVCOM London Film Awards, and New York Festivals in recent months.
Catch the Broadway-style musical live this weekend at the PUE Theatre in Education City.
Qatar Foundation Schools Productions presents SHOWTIME!, a fully-staged musical production by students and staff from across QF schools, accompanied by the Qatar Philharmonic Orchestra.
Featuring performances of well-loved songs from Broadway and the West End, with extracts and medleys from musicals including Wicked, Oliver, Annie, Hairspray, Mary Poppins and Matilda, you won't want to miss this.
There will be four shows kicking off next weekend: 
• 2.30pm on Saturday June 11
• 7pm on Saturday June 11
• 7pm on Sunday June 12
• 7pm on Monday June 13.
Tickets are priced at QR100, and seats are on a first-come-first-served basis at the theatre.
You can book your tickets now on www.q-tickets.com.
You might also like: Don't Miss Qatar Philharmonic Orchestra's Shows at Katara Opera House in June 2022
Qatar Foundation began teaching musical theatre to students across the country with the aim of holding a live show, but this was cancelled due to the pandemic.
The crew was made up of 55 Qatar Foundation staff members and students aged seven to 55, plus 20 crew members, who filmed performances at Qatar National Convention Center and Qatar Science and Technology Park, as well as Ceremonial Court, Oxygen Park, and Qatar National Library.
Do not miss this event if you're a fan of broadway and musicals, book your tickets and reserve your seats TODAY!
Ticket price: QR100
Date and Timings: Sat Jun 11 2.30pm, 7pm; Sun Jun 12-Mon Jun 13 7pm
Venue: PUE Theatre, Education City
Ticket Booking: www.q-tickets.com