Sheikh Joaan, Sheikha Hind Appointed to IOC Commissions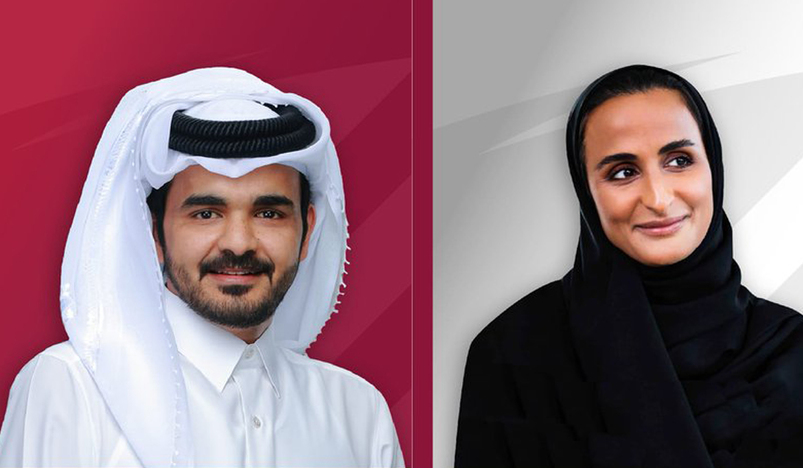 Sheikh Joaan and Sheikha Hind
The Qatar Olympic Committee (QOC) announced that HE QOC President Sheikh Joaan bin Hamad Al-Thani, HE Qatar Foundation (QF) Vice-Chairperson and CEO Sheikha Hind bint Hamad Al-Thani and HE QOC Secretary-General Jassim bin Rashid Al Buenain have been appointed to key roles on International Olympic Committee (IOC) Commissions.
HE Sheikh Joaan bin Hamad Al-Thani, HE Sheikha Hind bint Hamad Al-Thani and HE Jassim Rashid Al Buenain were appointed to the IOC's Olympism 365 Commission, Olympic Education Commission and Olympic Programme Commission respectively, and will provide expert advice to the IOC to further the development of the Olympic Movement.
In addition to chairing the QOC, HE Sheikh Joaan bin Hamad Al-Thani serves as President of the 2024 FINA World Championships Organising Committee and 2024 FINA World Masters Championships Organising Committee.
He has also overseen the world-class delivery of a number of Qatar's international events including the ANOC World Beach Games Qatar 2019, the 2019 World Athletics Championships and Qatar 2015 Men's Handball World Championship.
HE QOC President Sheikh Joaan bin Hamad Al-Thani said, "I am pleased to be appointed to the newly established Olympism 365 Commission. At the QOC we have worked hard to further the Sustainable Development Goals (SDGs) of the United Nations (UN) in all that we do. Sport has a vital role to play as an enabler for the UN SDGs and as a vehicle for creating a peaceful and better world. I am excited to have the opportunity to work with my colleagues on the commission to help further the IOC's work and drive Recommendation 10 of the Olympic Agenda 2020+5." HE Sheikha Hind bint Hamad Al-Thani will bring her diverse experience in education to the Olympic Education Commission. In her role at the QF, HE Sheikha Hind bint Hamad Al-Thani leads a multicultural team of 5,000 with a focus on three core areas: education, science and research, and community development.
Her Excellency also serves on the boards of several educational and cultural institutes including Hamad Bin Khalifa University, Qatar National Library, HEC Paris - as a member of its International Board - and Teach for Qatar.
HE Sheikha Hind Bint Hamad Al Thani said, "I am delighted to be appointed by the IOC to such a prestigious Commission. I am strong believer in the power of education to shape lives, strengthen societies and build a better world. At its core, sport is a form of education, instilling the Olympic values of excellence, respect and friendship to create a more harmonious world.
"I am excited to contribute to the work of the Olympic Education Commission in ensuring the dissemination of the Olympic values and the promotion of sport in education." Meanwhile, HE Jassim bin Rashid Al Buenain brings his experience as both a professional footballer for 12 years and a sports administrator to the Olympic Programme Commission.
As the Secretary-General of the QOC, he works closely with Qatar's 23 National Federations on evaluating their sporting pathways from grassroots through to the elite level and has been a key figure behind the delivery of world-class events in an array of sports. He is also OCA Vice President for the Doha 2030 Asian Games and serves as Vice President of the FINA World Championships and World Masters Championships Doha 2024.
HE Al Buenain said, "It is a privilege to have an opportunity to serve the IOC and Olympic Movement in an even greater capacity. As the Secretary General of the QOC, I play an active role in the delivery of world-class sports events in a wide variety of sports. I have seen first-hand how different sports resonate with young people and the ways in which sports can innovate and adapt to new trends and the IOC's commitment to appeal more to younger generations through sports. I am looking forward to sharing my experience and knowledge with my fellow colleagues in the Olympic Programme Commission to best support the IOC and wider Olympic Movement in maximising the popularity and the outreach of the Olympic Games."
(QNA)