SC Organizes Flags Raise Festival of Qualified Teams for Qatar 2022 World Cup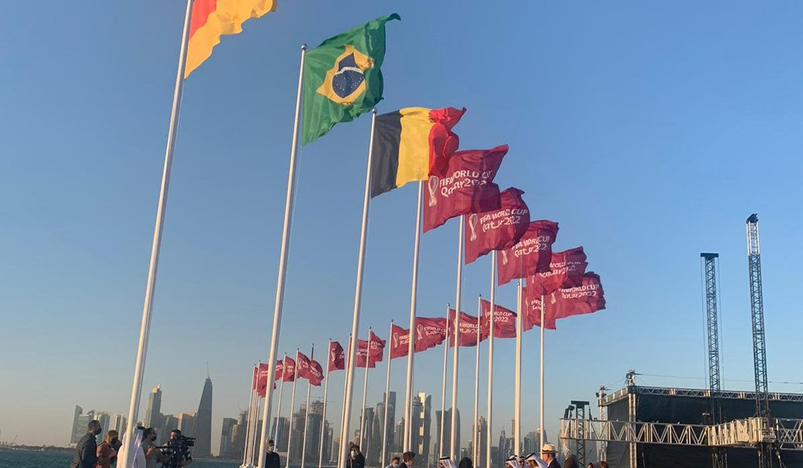 Flags Raise Festival at Doha Corniche
The Supreme Committee for Delivery and Legacy (SC) organized today at Doha Corniche a festival to raise the flags of the teams that qualified for the FIFA World Cup Qatar 2022.
HE Secretary-General of SC Hassan Al Thawadi, CEO of the Qatar 2022 World Cup Nasser Al Khater, Secretary General of the Qatar Football Association, (QFA) Mansoor Al Ansari, and a number of ambassadors of the qualifying countries for the World Cup attended the festival.
The flags of Denmark, Germany, Belgium, Brazil and France were raised, in addition to the flag of the State of Qatar (the host country).
HE Hassan Al Thawadi said that the festival organized to welcome the countries qualified for the 2022 World Cup in Qatar, which is an initiative of the SC and the Organizing Committee in the State of Qatar to welcome not only the qualified teams, but more importantly the fans of these teams to be here after a year of now in the World Cup.
HE Al Thawadi explained that this initiative will be carried out by the SC with all the teams qualified for the 2022 World Cup.
For his part, the Secretary-General of the QFA, Mansoor Al Ansari, congratulated the fans of the qualified teams for the 2022 World Cup, he also thanked the SC and the organizing committee for this initiative.
The festival witnessed the presence of ambassadors and diplomats, and this will be repeated for all countries qualify to the World Cup finals, and this space will be decorated with the flags of all the countries qualified for the World Cup, Al Ansari added.
SOURCE: QNA