Saudi Minister Praises Qatar Islamic Cultural Center's Efforts in Introducing Islamic Culture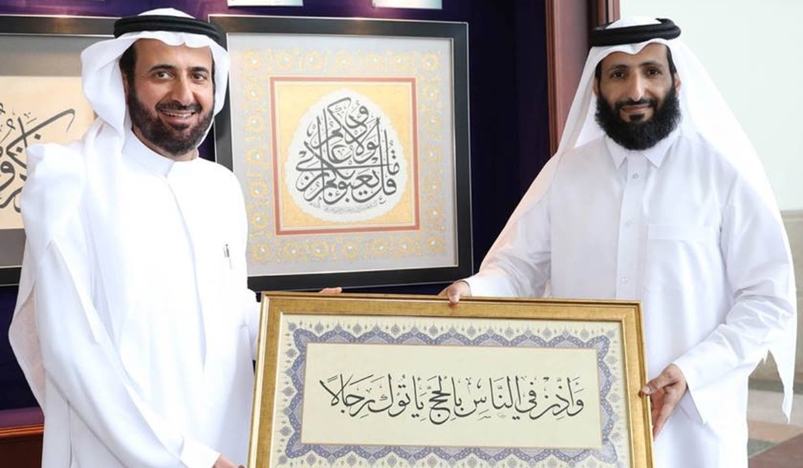 Saudi Minister Praises Qatar Islamic Cultural Center's Efforts in Introducing Islamic Culture
HE Minister of Haj and Umra in the Kingdom of Saudi Arabia Dr. Tawfiq bin Fawzan bin Mohammed Al Rabiah praised the efforts of the Sheikh Abdulla Bin Zaid Al Mahmoud Islamic Cultural Center at the Ministry of Endowment and Islamic Affairs in introducing Islamic culture and Qatari heritage as well as providing awareness programs to the State of Qatar's residents and visitors in multiple languages.
The visit of the Saudi Minister of Haj and Umra to the Center came as part of his official visit to the country last week. During the visit, Sheikh Abdulla Bin Zaid Al Mahmoud Islamic Culture Center General Manager Dr. Saleh bin Ali Al Marri introduced the Center's departments and work in presenting a comprehensive understanding of Islam and Muslims, in addition to hosting an exhibition of the Kiswa: the black textile covering of the Kaaba, as well as showing a film on the manufacturing of the Kiswa.
Furthermore, the Center displays Qur'anic manuscripts and a virtual reality film.
The Saudi Minister of Haj and Umra appreciated the Center's work and its civilized approach in promoting Islamic culture.
In a related context, HE Mufti of Akkar in the north of the Republic of Lebanon Sheikh Zaid Mohammed Bakkar Zakaria visited the Center and expressed his happiness with the Center's efforts in introducing Islamic culture, pointing to its efforts in this regard during the FIFA World Cup Qatar 2022 and praised the heritage and civilization halls.
As part of the Center's activities and programs, the department of introducing Islam is holding a program for the Qatari-Russian Center for Cooperation on traditional medicinal herbs in Qatar.
The department of Islamic Culture held a lecture dedicated to the Indonesian community, delivered by Preacher Ahmed Zainuddin, dealing with the virtue of honoring one's parents as a religious value and its importance to the individual and society. The lecture was attended by 300 people.
During last week alone, 87 visitors visited the Imam Mohammed Ibn Abd Al Wahhab Mosque.
They learned about the different sections of the mosque and its important role in the lives of Muslims. Additionally, 185 converts benefited from the Center's education programs for new converts, in all three branches of the Center.
(QNA)