QRDI Council and Enterprise Singapore Sign Memorandum of Understanding to Boost Innovation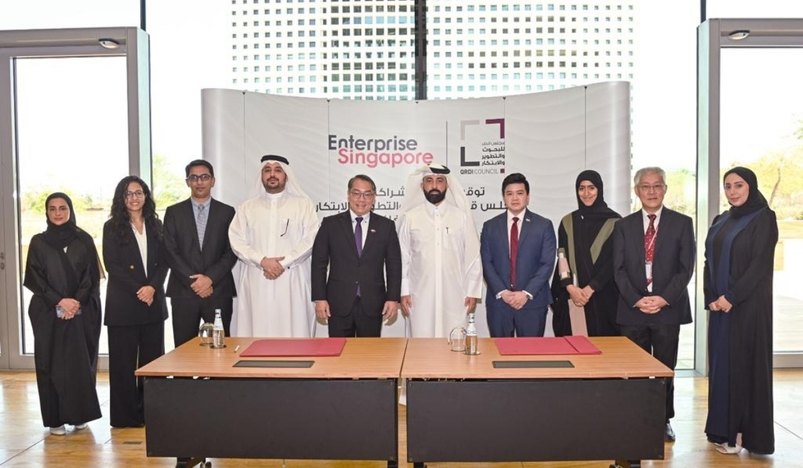 QRDI Council and Enterprise Singapore Sign Memorandum of Understanding to Boost Innovation
The Qatar Research, Development, and Innovation (QRDI) Council and Enterprise Singapore (EnterpriseSG) have joined a strategic partnership to stimulate cross-border collaboration and pioneering open innovation, thereby supercharging Qatar's transition towards becoming an innovation and knowledge-based economy.
Central to this accord is a commitment to ignite, facilitate, and promote joint innovation programs, events, and initiatives that span a breadth of sectors that serve the mutual interests of Qatari and Singaporean enterprises. This robust alliance not only strengthens the bilateral ties but also fuels innovation-driven growth within the ecosystems of both nations.
Eng. Omar A. Al-Ansari, Secretary General of The Qatar Research, Development, and Innovation (QRDI) Council, articulated his eagerness for this collaboration, commenting, "We establish this partnership with Enterprise Singapore to support the growth of our respective innovation ecosystems.  We will focus on areas of common interest, such as Sustainability, MedTech, and Food tech, to generate exciting opportunities in these domains for innovative businesses in Qatar and Singapore.  
We will also leverage our respective Open Innovation Platforms to publish these opportunities and to support product development, testing, commercialization, and scaling of innovative solutions.   
The QRDI Council is committed to advancing Qatar's transition towards an innovation and knowledge-based economy, and this partnership with Singapore, which has a powerful global innovation presence, will support our efforts to achieve these goals."
This Memorandum of Understanding (MoU), underpinned by the resilient bilateral relations and cooperative dynamics between the State of Qatar and Singapore, provides a solid framework for the QRDI Council and EnterpriseSG. It paves the way for synergistic collaboration in pursuing shared objectives through groundbreaking initiatives.
The first facet of this collaboration involves creating product innovation and commercialization opportunities. This goal will be achieved by offering unique challenge statements and facilitating proof-of-concept or piloting opportunities realized through their respective open innovation or co-innovation programs.
Simultaneously, the collaboration will focus on the cross-promotion of innovation programs, events, and opportunities in Qatar and Singapore. This initiative aims to amplify awareness, forge partnerships, and stimulate participation from businesses across both nations, leveraging platforms such as the QRDI Portal and EnterpriseSG's Open Innovation Network.
Lastly, the partnership will foster a culture of knowledge exchange and expertise sharing to bolster each party's innovation ecosystem. This initiative will further enhance the innovative capabilities of enterprises and the public sector in both nations, achieved through curated events and workshops.
Mr. Tan Soon Kim, Deputy Chief Executive Officer (Global Markets) of EnterpriseSG, conveyed his perspective, remarking, "Qatar's economy has experienced rapid growth in recent years. The country has been actively diversifying its economy by investing heavily in infrastructure and digital transformation. Innovation will be a key focus as the government looks to grow other sectors, such as tourism, trade, logistics, and healthcare, and move towards a knowledge-based economy.
Our Memorandum of Understanding with the Qatar Research Development and Innovation Council will drive collaboration between Singapore and Qatari companies to develop products and solutions which will contribute to Qatar's sustainable development while enabling our companies to commercialize and scale their offerings. The complementary key areas we intend to work on include energy, urban solutions, MedTech, and food tech."
With sound confidence expressed by both parties, the QRDI Council and EnterpriseSG alliance is perceived as a conduit to foster connections, expand innovation opportunities, advance innovative solutions, and augment access to global markets. This collaboration is poised to catalyze an environment conducive to innovation-driven economic growth. 
Serving as pillars of this partnership, the QRDI Council, bearing a national mandate, shoulders developing and implementing the QRDI 2030 Strategy and marshals research and innovation funding to fortify Qatar's burgeoning innovation ecosystem. Concurrently, EnterpriseSG, a statutory board under Singapore's Ministry of Trade and Industry, is responsible for championing enterprise development in Singapore, working with companies to build capabilities, innovate and internationalise.
To learn more about us and our programs, visit QRDI Council.