QRCS Holds Training Workshops for Workers on Occupational Safety and Health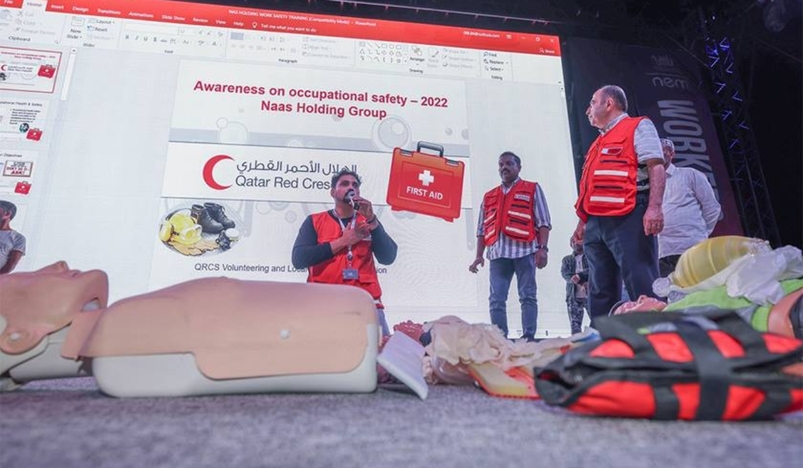 Training Workshops for Workers on Occupational Safety and Health
Qatar Red Crescent Society (QRCS) has launched a new series of training and informative workshops for workers during the FIFA World Cup Qatar 2022, under the joint educational campaign on occupational safety and health announced in October by QRCS, the Ministry of Labor (MOL), the Ministry of Public Health (MOPH), and the International Labor Organization (ILO).
Under the supervision of specialists from QRCS's Volunteering and Local Development Division and Training and Development Center, the program involves eight public workshops during weekends for three weeks. Visitors of World Cup fan zones at the Labor City of the Industrial Area will receive health education, first-aid training, and information about health and safety standards at workplace.
Director of Volunteering and Local Development Division at QRCS Muna Fadel Al Sulaiti said: "the launch of this joint awareness campaign is part of the efforts made by the State of Qatar to ensure a safe and secure work environment, as well as to raise awareness among employers and workers about the best conditions that must be observed at worksites and worker housing," adding that these workshops will help workers to practice a healthy lifestyle, thus ensuring their safety and protecting them against risks at workplaces, fan zones, and other gatherings.
She described this joint campaign as a "remarkable example of integrated work between the government and humanitarian sectors." According to her, concerted efforts and exchange of experience have had a significant impact on the outcomes, through good coordination among MOL, MOPH, QRCS, and ILO.
"Launching such campaigns is among QRCS's strategic priorities, which are centered upon supporting vulnerable groups and building their capacity," she noted.
For her part, Head of Community Development at QRCS Noora Issa Al Fadala said that the occupational safety and health campaign focuses on promoting awareness among employers and workers about what can be and what cannot be done at workplace and worker accommodation, improving workers' ability to deal with emergencies, equipping them with the basic information they have to know and practice in their everyday lives, and educating them on how to avoid work-related and crowd-related risks for ensure their own safety.
Al Fadala considered this joint campaign as a "manifestation of sectors complementing each other, and QRCS' developmental role to support government authorities during the FIFA World Cup Qatar 2022, especially in relation to workers."
(QNA)