QRCS Continues Its Support for Health Services in Gaza Strip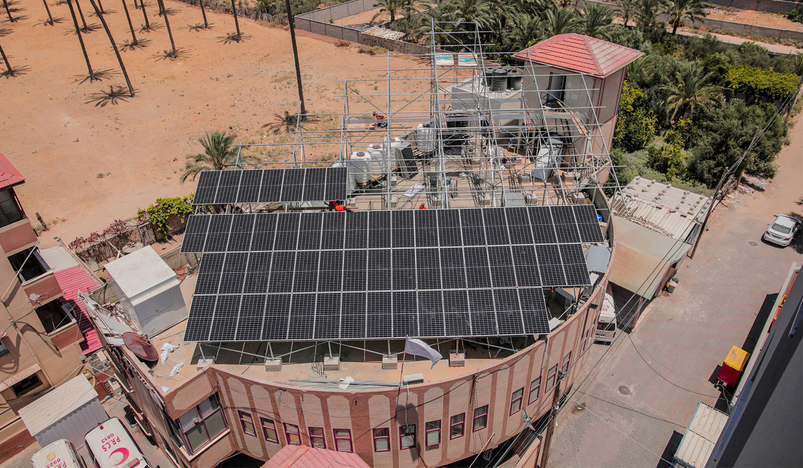 Deir Al-Balah Health Center
Qatar Red Crescent (QRCS) continued its support for health services in the Gaza Strip, through the implementation of a project to provide alternative energy for Deir al-Balah health center.
In a statement released Monday, QRCS stated that the aforementioned health center has been provided with solar energy at a time when the governorates of Gaza suffer from the continuing crisis of power outages for more than 12 hours a day, which threatens the provision of health services provided to patients.
Director of the Representative Office at QRCS Dr. Akram Nassar stressed the importance of this project in light of the continuing power outage and its negative effects on the health sector services there, noting that from this point of view, this intervention came with the aim of installing 130 Solar energy panels, to help provide 58 kilowatts of power, ensuring the continuity of services provided to the public without interruption.
In turn, Eng. Sufian Zeidan, director of the Palestinian Red Crescent branch in the central governorate, praised the implementation of the new solar energy project, as the center serves about 4,700 patients per month, in addition to the fact that the available energy from the project will cover 90 percent of the needs of the center's facilities with electricity, most notably the emergency departments, radiology and specialized clinics, in which the service was stopped due to power outages. The new project reduced fuel emissions from electric generators, which were harmful to the residents and the surrounding areas of the center.
QRCS has previously implemented projects to provide alternative energy to ensure the continuity of services provided to the population in Gaza for 15 years, as projects have been implemented to provide solar energy in a local university and a number of houses for poor families in several governorates in Gaza, in addition to another project currently being implemented to supply 3 water wells with solar energy.
SOURCE: QNA