QFZA, WOLF Group and Msheireb Properties Sign Agreement to Launch 3D Printing and Digitalization Hub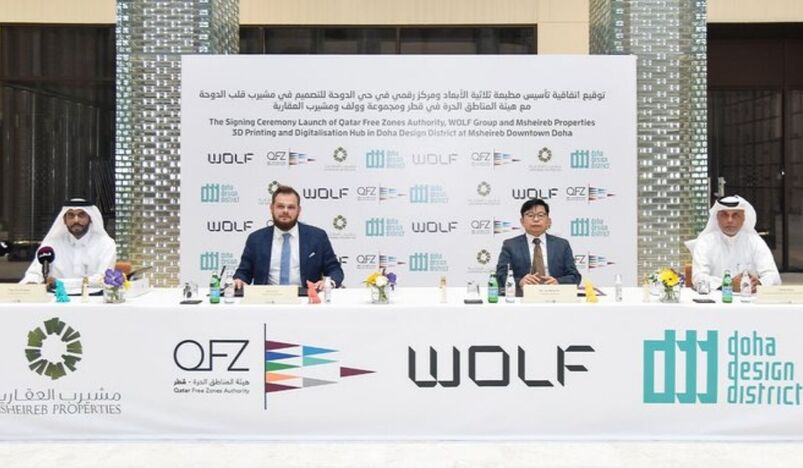 QFZA, WOLF Group and Msheireb Properties Sign Agreement to Launch 3D Printing and Digitalization Hub
Qatar Free Zones Authority (QFZA), WOLF Group QFZ LLC and Msheireb Properties signed Saturday an agreement to establish a 3D Printing and Digitalization Hub and Art Gallery in Ras Bufontas Free Zone, with its headquarters to be located in Doha Design District at Msheireb Downtown Doha.
CEO of QFZA Lim Meng Hui, CEO and Founder of WOLF Group Mariusz Krol, and Acting CEO of Msheireb Properties Ali Al Kuwari signed the agreement at a ceremony held in Msheireb Downtown Doha.
The 3D Printing and Digitalization Hub will offer access for artists and enterprises to next generation technologies such as 3D printing and innovative new techniques for scanning and photogrammetry. WOLF Group will facilitate the transfer of artists works from digital versions to real works of art using various materials, including recycled ones, helping to raise awareness of sustainable development methods. The Hub will be a place where designers and the general public can gather, create and be inspired.
Commenting on the occasion, CEO of QFZA Lim Meng Hui said, "We are pleased to welcome WOLF Group to Qatar Free Zones, in partnership with Msheireb Properties, as part of Qatars rapidly growing technology and creative ecosystem. The 3D Printing and Digitalization Hub is the first of its kind in Qatar and will be an invaluable resource for the design and creative community in the country. This Hub will also provide unique support to companies in our manufacturing, automotive, aerospace and biomedical sectors through the development and rapid prototyping and production of products using innovative, bio-compatible materials. This will have a significant impact in terms of reducing production costs, enhancing lead times and improving time-to-market for these companies."
"QFZA has a longstanding commitment to sustainable development, as evidenced by our recent GSAS sustainability certification," he added.
Mariusz Krol, CEO and Founder of WOLF Group, said, "3D printing and the re-use of recycled materials are at the heart of WOLF Groups strategy. We are delighted to mark this strategic cooperation with Msheireb Properties to offer technological support as well as innovative solutions in different areas such as the using recycled materials, furniture production, art, gaming and animations."
Ali Al Kuwari, Acting CEO of Msheireb Properties, commented, "Msheireb Downtown Doha is about design, creativity, and innovation, and we continue to host premium international design organisations from around the world to achieve our vision and create an excellent hub for the creative community in Qatar and the region. We are confident this will add great value to our local artists and business, who share common values about sustainability."
WOLF Group, together with Msheireb Properties and the Seashore Group, is currently working on the world's biggest printed object made from recycled Polyethylene Terephthalate (PET). It is designed by Przemyslaw "Mac" Stopa from Massive Design, who will also design the interiors of the 3D Printing and Digitalization Hub. It is set to become a major statement on sustainability adorning Doha's skyline as well as a significant tourist attraction.
Qatar is witnessing rapid digital growth across all industries, including as part of preparations for the FIFA World Cup 2022 - the worlds biggest global sporting event. The new partnerships in the technology industry foster an attractive market for foreign corporations, SMEs and startups geared towards innovation solutions. (QNA)