QF Participates in UN Discussions on Footballs Ability to Drive Social Impact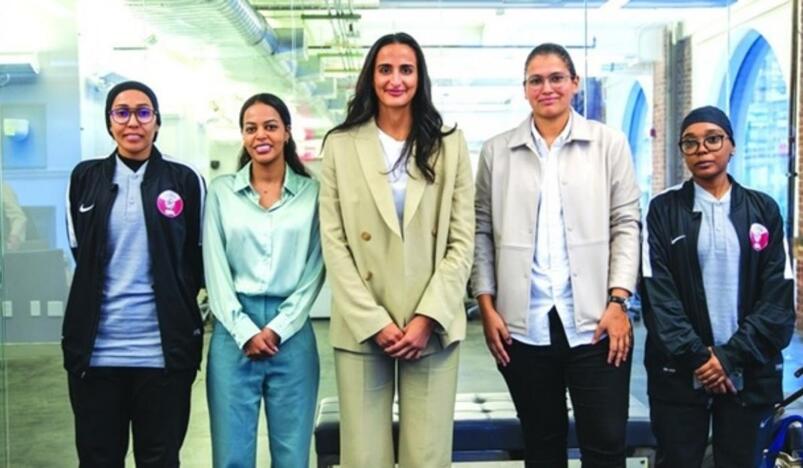 QF Participates in UN Discussions on Footballs Ability to Drive Social Impact
Qatar Foundation (QF) took part in a series of discussion on the sidelines of the 77th session of the United Nations General Assembly to highlight the role of football and explore how football can be a tool for social impact, education, and sustainability.
As well as participating in knowledge-gathering and knowledge-sharing meetings with sports industry leaders, HE Vice Chairperson and CEO of Qatar Foundation Sheikha Hind bint Hamad Al-Thani met with female football players from Qatar who are looking to enhance and continue their pathways in sport.
During their trip in the United States facilitated by the US Embassy in Qatar, with the support of non-profit organization World Learning the female footballers first stopped in New York ahead of traveling to San Francisco, where they are meeting and learning from industry leaders, experts and players about how to pursue a path in football, whether it is through playing, coaching, refereeing, or understanding the administrative or business side of the game.
HE Sheikha Hind also met a cohort of young change-makers who traveled to New York as part of Qatar Foundations (QF) Ideas for a Bold Future initiative. Through the year-long initiative, the group of students have been mentored, empowered and supported to learn to collaborate, and complete service-learning projects by using football as a tool to solve the worlds biggest challenges in three areas: progressive education, health and Wellness, and sustainability.
QF also participated in a panel hosted by global convening organization Concordia, where the topic of increasing women and girls access to, and participation in, football was spotlighted.
During the discussion, Machaille Hassan Al Naimi, Strategic Initiatives Executive Officer at QF, underlined the importance of female participation in sports.
"Representation is very important for us as we embark on a journey of women in sports and encourage more women to be part of it," she said.
"We need to have more role models that women can look up to. What we need is to have our pulse to the ground and hear what the women have to say, and try to identify the challenges they are facing. And, in addressing these challenges, we need to show role modeling," she added.
The Concordia panel which also included the first female Muslim-American Olympic medalist and bestselling author Ibtihaj Muhammad; and Eglantina Zingg, President, Goleadoras - was held in partnership with the Supreme Committee for Delivery & Legacys Generation Amazing program, and explored how sports can be used as a tool for equal opportunity.
In New York, the Ideas for a Bold Future student group had the chance to soak up a wealth of information through workshops and activities that were planned to enhance their learning and mentoring experiences. Nine students who traveled attended workshops, including one at the Google office in Chelsea Market, where they were taught to pitch their ideas and negotiate, and mentored on collaboration and understanding the value of empathy, showcasing how sustainable impact is created through the skills of issue-identification and strategic long-term planning.
Source: QNA