Qatari mountaineer Sheikha Asma al-Thani has scaled Mount Dhaulagiri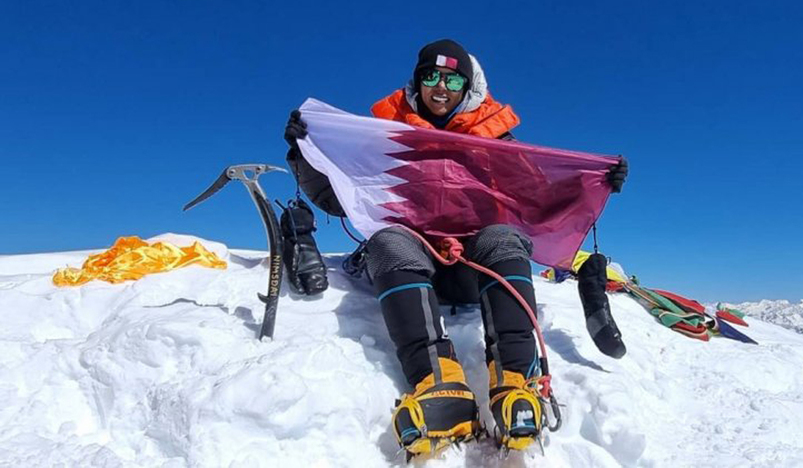 Qatari mountaineer Sheikha Asma Al Thani
"Wow Dhaulagiri! You have been quite a ride!," Qatari mountaineer Sheikha Asma Al Thani wrote on her Instagram page as she shared a successful summit at the seventh highest mountain in the world. 
Right after conquering Mount Manaslu on September 27 this year, Sheikha Asma ventured on another journey at Dhaulagiri, a mountain range in Nepal, which is known to be the seventh highest mountain in the world with an elevation of 8,167 meters. 
Speaking about her journey to the summit,  she spoke about the challenges she and her group encountered as they were hit by a storm during their climb at camp 3 which prompted them to retreat and try again.
In an Instagram post, she said: "Our summit push started with extremely challenging conditions, but with determination we kept on going higher, trailblazing to the summit of the 7th highest mountain in the world." 
"A 32 hour nonstop summit push and down to basecamp was not easy but but we all did it with passion and love for the climb," Sheikha Asma further stated. 
In this journey, Sheikha Asma highlighted the amount of discipline she carried out during the climb to Dhaulagiri. She spoke about the "discipline to learn the right techniques and apply them" when tired as well as the "discipline to have had your gloves warm in your jacket" when feeling cold. 
"Strength will only take you a distance but discipline is what will get you to where you have set your eyes," she said. 
Trailblazing to the summit of Dhaulagiri, the seventh highest mountain in the world, marks as her latest achievement right after her succesful climb at the eighth-highest mountain in the world which is Mount Manaslu, in which she climbed without oxygen.  
In August this year, she also summitted Mount Elbrus which is the highest peak in Europe. Sheikha Asma has also conquered Mount Aconcagua and trekked to Everest base camp in 2019, North Pole in 2018, and Kilimanjaro in 2014.
She aims to complete the Explorers Grand Slam of climbing the Seven Summits and reaching the North Pole and South Pole.