Qatari help reaches out via QRCS to thousands of fasting people globally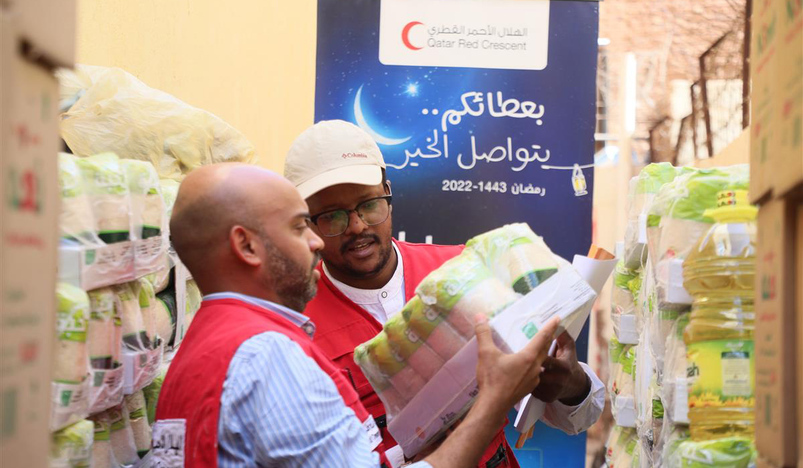 QRCS
Qatar Red Crescent Society (QRCS) is steadily working on Ramadan Iftar projects in many countries, under its Giving Sustains Good Ramadan Campaign 1443 AH.
In partnership with Yemen Red Crescent Society (YRCS), QRCS initiated a Ramadan Iftar project for 32,718 beneficiaries in Amanat Al-Asimah, Aden, Taiz, and Dhale. At a cost of $380,000, 4,674 food parcels are being distributed to displaced families, vulnerable groups, and patients with cancer and multiple sclerosis (MS). Each one-month parcel contains 67 kg of basic food items such as flour, rice, sugar, beans, cooking oil, salt, and dates.
In Bangladesh, the last batch of Ramadan food parcels, totaling 7,235, were distributed to Myanmar refugees at Camps No. 15 and 16, as well as the local host communities in and around Cox's Bazar.
In response to the drought across Somalia, QRCS's representation office there distributed 550 Ramadan food parcels to internally displaced people (IDPs) and victims of drought at remote camps in Banadir. Distributions will continue to deliver 3,583 food parcels for the benefit of 25,081 IDPs in Banadir and Hargeisa.
In cooperation with Palestine Red Crescent Society (PRCS), QRCS's office in the West Bank and Jerusalem is distributing food parcels to Palestinian families in Jerusalem, Salfit, Jenin, Ramallah, Hebron, Tulkarm, and Nablus. During Phase 1, 1,476 parcels were distributed to 8,856 beneficiaries.
QRCS's office in Gaza handed over 5,894 food parcels to the warehouses of Palestine's Ministry of Social Development, at a cost of QR 1,635,000. So far, 4,986 food parcels have already been distributed to 29,916 poor beneficiaries, and distributions will continue until the target is achieved.
In partnership with the Lebanese Red Cross, QRCS is working on Phase 3 of preparing Ramadan food parcels to be distributed to over 3,000 families from the poorest Lebanese in North Lebanon, refugees, and host communities. Also, the beneficiaries were informed about key food security tips, to help them find viable nutritional alternatives that improve their food security.
QRCS's offices in Iraq completed Phase 1 of preparations to distribute Ramadan food parcels to the beneficiaries. In Sudan, QRCS's office is distributing food parcels to 1,680 families in several parts of the country.
Together with the Afghan Red Crescent Society (ARCS), QRCS distributed 550 food parcels to 3,850 beneficiaries in Kabul and Mussahi districts. In Albania, QRCS gave money to the Albanian Red Cross to distribute 600 Ramadan food parcels to 3,000 poorest persons such as widows, patients, and older persons, to meet their basic needs during the holy month of Ramadan.
With $20,000 funding from QRCS, Kyrgyzstan Red Crescent distributed food vouchers to 770 families as follows: 98 families in Bishkek and 96 families in each of the country's seven regions. Similarly, volunteers of the Red Cross of Kosovo distributed 220 food parcels to the poorest families across the country, each containing 35 kg of food staples like flour, vegetable oil, sugar, pasta, rice, red pepper, coffee, tea, and dates.