QatarEnergy, Qatar Foundation Sign Solar Energy Cooperation MoUs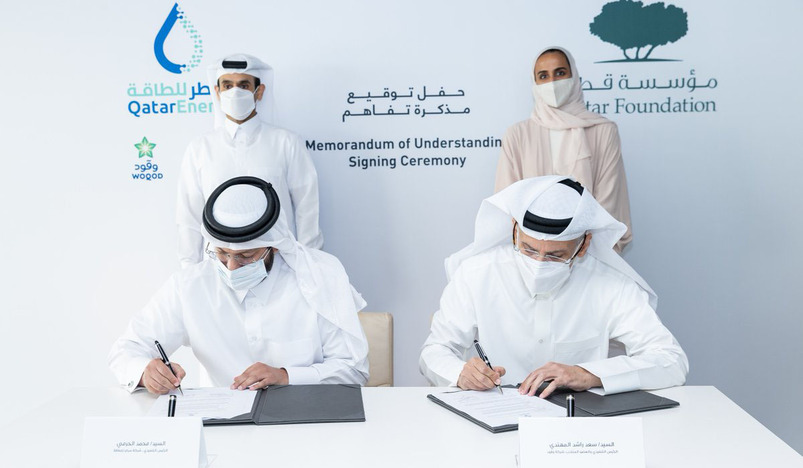 QatarEnergy signed two memoranda of understanding (MoUs) with Qatar Foundation
QatarEnergy signed two memoranda of understanding (MoUs) with Qatar Foundation and WOQOD related to cooperation in photovoltaic (PV) energy and systems applications.
HE the Vice Chairperson and CEO of Qatar Foundation Sheikha Hind bint Hamad Al Thani, and HE the Minister of State for Energy Affairs and President and CEO of QatarEnergy, Saad Sherida Al-Kaabi attended the signing event, which was held at Qatar Foundation.
The first MoU, signed between Siraj Energy (a JV between QatarEnergy (51%) and QEWC (49%)) and Qatar Foundation, reflects a shared commitment to sustainability and to developing and implementing strategies that contribute toward shaping a sustainable future for Qatar. It will allow Siraj Energy to study and evaluate installation and utilization of PV systems to power Sidra Medicine, Qatar Foundations womens and childrens hospital and medical research center. The study and evaluation will include the determination of most effective capacity to be cabled to existing systems by considering optimisation of available land areas, sustainability and efficiency. Siraj Energy targets to complete study and evaluation by end of the second quarter of 2022.
The MoU was signed by Siraj Energy CEO Mohammed Yousef Al Harami, and Qatar Foundation Chief Operations Officer Ghanim Hassan Al-Ibrahim.
Siraj Energy and WOQOD signed the second MoU, which facilitates Siraj Energy investment in the installation of PV systems in WOQOD stations (Rawdat Egdaim 347kWp, and Golf Course 339 KWp by utilizing available spaces and help achieve efficiency and sustainability requirements.
Siraj Energy will finance, engineer, construct, procure, test/commission, operate, and maintain the systems. Siraj Energy and WOQOD are targeting to complete the projects during the second quarter of 2022.
The MoU was signed by Siraj Energy CEO, Mohammed Yousef Al Harami, and WOQOD CEO, Saad Rashid AlMuhannadi.
The new stations are expected to start operating in the middle of the third quarter of 2022, just before the inauguration of the FIFA World Cup 2022, which will be hosted in the fourth quarter of the same year.
The two WOQOD stations will be the first to have special units to charge electric cars as they will be provided with an average of 10 units in each of them. They will use the highest technical standards to provide fast charging for vehicles.
Siraj Energy was established in 2017 for the purpose of development, financing, engineering, constructing, procurement, testing/commissioning, operation, and maintenance of PV systems and sale of PV plants output.
Siraj Energy strives gaining of experience and knowledge of PV technologies and applications. It is currently developing Al Kharsaah PV plant of 800 MWp which is located at Al Kharsaah village on land area more than 10 sq km. The project is Qatars initiative for carbon emission reduction, power generation diversification. The project will be completed before inception of FIFA World Cup 2022 in order to supply power to the event. Siraj Energy will continue cooperation and coordination with WOQOD to develop further PV systems in future WOQOD stations. 
SOURCE: QNA