Qatar Youth Choir wins Gold in Greece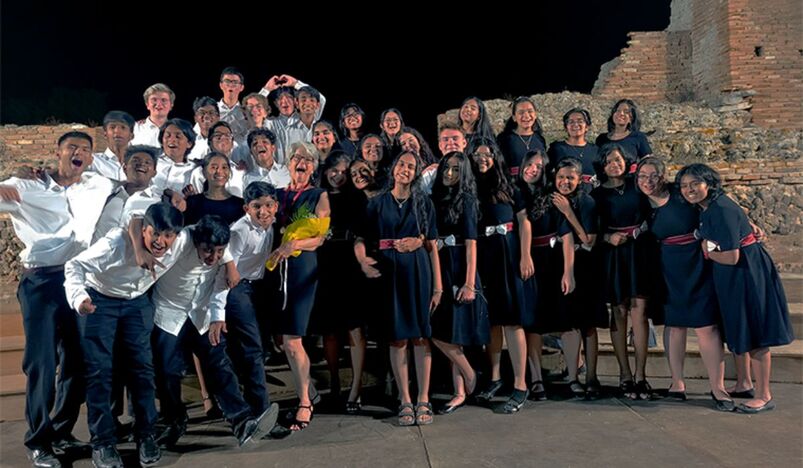 Qatar Youth Choir wins gold at the 26th International Choral Competition.
Earlier this month, the Qatar Youth Choir (QYC) traveled to Preveza, Greece, to perform in the 26th International Choral Competition. The 37 young singers, led by Conductor and Director Alena Pyne, placed first in the "original repertoire" category of the competition held as part of the 40th International Choral Festival.
"We were particularly thrilled as, apart from one other youth choir, all the other competitors in our section were adult choirs," says Alena. "The judging panel was made up of eight world-renowned adjudicators. I am so proud of the choir. We have worked so hard, and the program quality we presented was extremely high."
Not only did the QYC choir win gold, but they also won awards for best stage presentation and best pedagogical approach for their conductor.
The significance of the tour, however, extended far beyond the performances and awards they received. The choir's director, Mattias Van Alsenoy, says: "This tour has been one of the best weeks of my life. Not only did we travel again after a three-year wait, but we did so with our best friends, not to mention the new friends we made along the way. It was my first time being the choir leader on a trip, and it's been interesting to see how the logistics work now that I was 'behind the scenes.' In addition, the experience has helped me grow as a singer and leader, much like all the other amazing things we get to do in the choir."
Deputy Leader Rehan Valsan Pillay adds: "This trip to Greece was so precious. Every moment from the second we landed in Athens to the food we ate, to the people we met, to the bus rides we sang our hearts out on, to the second we took off, was filled with joy and happiness."
The people of Preveza, a bustling but small town, greeted the choir with open arms. Some choir members brought along their loved ones, ecstatic to see them perform in indoor and outdoor settings. They attended the choral competition as a group and saw the finals for conducting and other categories.
QYC's members come from over 15 different countries, and they were able to connect with other international musicians while in Greece. QYC demonstrated their allegiance on opening night by wearing Qatari colours, carrying the Qatari flag, and performing two Arabic songs.