Qatar Travel Mart 2023 invites visitors to 'Discover Places, People and Cultures'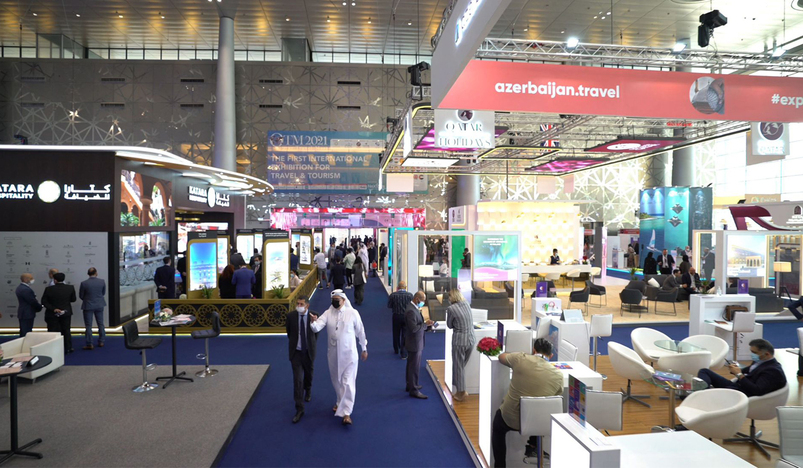 Qatar Travel Mart
Qatar Travel Mart (QTM) 2023, organized by NeXTfairs for Exhibitions and Conference, is proud to announce its esteemed patronage under the guidance of H.E. Sheikh Mohammed Bin Abdulrahman bin Jassim Al Thani, the Prime Minister, and Minister of Foreign Affairs. Qatar Tourism has been revealed as the strategic partner for the second edition of QTM, inviting visitors to embark on a journey of discovery, exploring "Places, People, and Cultures" from 20-22 November 2023 at the prestigious Doha Exhibition and Convention Centre (DECC).
Positioned as the exclusive platform for Qatar's travel and tourism industry, QTM 2023 anticipates the participation of up to 200 exhibitors and over 9,000 visitors from more than 60 countries. Attendees can look forward to engaging in the event's illustrious 3-day international conference, Global Village, Gala Dinner and Awards Ceremony, Hosted Buyers' Program, providing enhanced B2B opportunities, as well as media familiarization trips and cultural tours.
Mr. Rawad Sleem, Co-Founder and General Manager of NeXTfairs for Exhibitions and Conferences, expressed his excitement about Qatar Travel Mart 2023, stating, "We extend a warm welcome to exhibitors and visitors for the second edition of Qatar Travel Mart, and we are deeply honored to have the distinguished support and patronage of H.E. Sheikh Mohammed Bin Abdulrahman bin Jassim Al Thani, the Prime Minister and Minister of Foreign Affairs. Building upon the tremendous success of the inaugural event held in 2021, which witnessed the gathering of 150 exhibitors and 6,300 visitors from 34 countries, this year's exhibition promises to be even more remarkable."
He further emphasized, "Qatar Travel Mart 2023 endeavours to position Qatar as a prominent travel and tourism hub, fostering the country's tourism industry growth. By inviting international buyers and visitors to discover the attraction of Qatar and consider it an integral part of their travel plans, the nation's tourism sector emerges as a vital pillar in boosting Qatar's economic and human development, transcending its reliance on the oil and gas sector."
Qatar's status as a flourishing tourism destination has been solidified with the prestigious recognition by The Arab Tourism Organization (ATO), designating Doha as the esteemed Arab Tourism Capital for 2023. This notable title is poised to draw innovative investment projects aimed at harnessing the potential of its natural, cultural, and historical resources while also elevating human capital capabilities in the region. Doha's selection as the Arab Tourism Capital is a testament to Qatar's extraordinary progress, exemplified by its exceptional development, luxurious hotels, resorts, pristine beaches, vibrant entertainment hubs, and inviting public parks.
Chief Operating Officer of Qatar Tourism, Berthold Trenkel, said: "At Qatar Tourism, we are proud to be the Strategic Partner of this year's Qatar Travel Mart, as part of our commitment to position Qatar as the unrivalled gateway to the Arabian Gulf. This prestigious platform serves as a powerful catalyst, fuelling the rapid growth of our flourishing tourism industry by inviting thousands of visitors from over 60 countries to immerse themselves in the captivating tapestry of Qatar's unique experiences. We look forward to forging new connections at this year's edition and showcase to visitors a glimpse into Qatar's limitless tourism possibilities."
Mr. Fahad Saad Al-Qahtany, Mowasalat (Karwa) CEO, said: "Celebrating Qatar's vibrant travel and tourism industry, Mowasalat (Karwa) is honored to be the transportation sponsor for Qatar Travel Mart 2023. We take pride in paving way for seamless journeys and actively contribute to the local tourism sector – and are excited to support this extraordinary event that brings together 'Places, People, and Cultures.' Our commitment extends beyond providing safe and high-quality public transport; we also play a pivotal role in the success of international events, offer logistical support to destination management companies (DMCs), and facilitate captivating excursions for the thriving cruise ship sector, all of which collectively enhance the travel experience for visitors and locals alike."
The FIFA World Cup Qatar 2022™ has undeniably put Qatar on the global map, resulting in a significant surge in visitors to the country, reaching unprecedented heights. As per data released by the Civil Aviation Authority, Qatar witnessed a remarkable 101.9 per cent increase in air passengers, with over 35 million recorded in 2022 compared to the previous year. This surge in international visitors positions Qatar Tourism to fulfil its ambition of becoming the region's fastest-growing tourism destination, with the goal of raising the tourism sector's contribution to the gross domestic product (GDP) to 12 per cent by 2030.
In anticipation of the FIFA World Cup Qatar 2022™, Qatar dedicated itself to substantial infrastructure development, offering visitors access to a myriad of world-class hotels, public beaches, state-of-the-art stadiums, modern malls, and entertainment centers, all interconnected through efficient transportation networks. Qatar Tourism's strategic approach involves curating a robust calendar of captivating events throughout the year, enticing global travelers to participate in shopping and food festivals, sports events, and business exhibitions, making Qatar an attractive destination all year round.
The event presents an exceptional 3-day international conference for those attending Qatar Travel Mart, gathering a diverse lineup of experts and industry leaders to share invaluable insights and best practices. This conference attracts senior-level executives and decision-makers from the tourism sector, including academics, researchers, policymakers, consultants, government officials, students, and professionals from complementary industries in the tourism sector.
The Hosted Buyer Program organized in collaboration with Qatar Tourism, offers exhibitors and visitors the opportunity to meet with over 100 international buyers. Through pre-arranged face-to-face meetings, participants can explore potential investments and forge joint ventures with tourism experts, paving the way for numerous fruitful business deals.
A highlight of the event is the prestigious QTM Awards Ceremony and Gala Dinner, celebrating excellence within the Travel and Tourism and Hospitality Industry. Recognizing and rewarding professional and corporate achievements, this event brings together top achievers from around the world.
The Global Village at QTM serves as a melting pot of diverse cultures, connecting different parts of the world under one roof, showcasing heritage, traditions, and philosophies. Additionally, visitors can immerse themselves in Qatar's rich traditions and heritage through entertaining cultural tours, providing a deeper appreciation of the country's unique offerings.
Qatar Travel Mart 2023 takes place 20-22 November 2023 at Doha Exhibition and Convention Centre (DECC). Exhibitors are encouraged to book their space before the event becomes sold out. To reserve your exhibition space or find out further information, visit www.qtmqatar.com or call 5514 1188 for further details.