Qatar Resident Crowned Winner of Indian Beauty Pageant for Married Women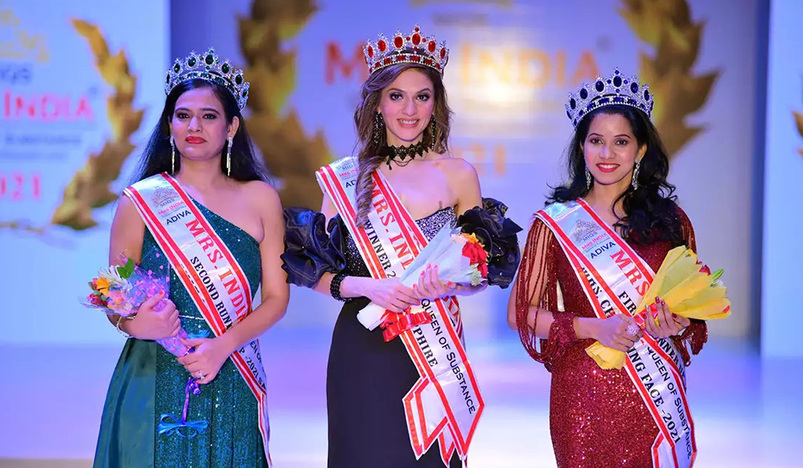 Winners of the Mrs India Queen of Substance competition for 2021
Doha resident Priyanka Bajaj Sibal has been named the winner of Mrs India Queen of Substance competition for 2021, a beauty pageant for married Indian women.
Bollywood Actress Mahima Chaudhary crowned Sibal, who became the first Indian in Qatar to win a national-level pageant.
A Brief about yourself and how you describe your own Personality and Persona.
A chartered accountant by profession, I am currently serving in the finance department of a reputed American University. I moved to the Middle East after marriage but am still deeply connected to my Indian roots. I am an empath and an emotional dreamer with a go-getter attitude who has the courage to drive her dreams to reality.I am a Philomath who believes in perpetual learning. I believe in treating everyone with kindness and respect, even to those who are rude to me, as forgiveness is the attribute of the strong. My friends describe me as someone who is friendly, empathetic, confident, intelligent, and humble. 
You're Achievements that makes you feel high.
I always dreamt of becoming a Chartered Accountant. I still feel the adrenaline rush when I get flashbacks of the day I achieved this dream, which was a combination of immeasurable grit, determination, and blessings. There was nothing more blissful than to see tears of joy in my parent's eyes on this feat. This rollercoaster ride not only made me strong but taught me the most significant lesson of life that there is no shortcut to success.It is the result of preparation, pure hard work, and perseverance. 
Define the true beauty.
God has created each individual on this planet as unique in their own special way. True beauty means being able to appreciate this uniqueness and respecting and loving all without prejudice. A golden heart is a magnet that attracts all the good in the world and never fades with time. People might forget how you look, but they will always remember how you made them feel, and if we treat people right, it leaves an everlasting impression. So be kind always, it doesn't cost anything but can transform your life for good.
What makes a complete, healthy and happy family for you?
Family for me is the greatest blessing of God. A complete family for me is where we can evolve with each other in harmony. Where each member respect the others' opinions and choices. A happy and healthy family becomes each other's pillar of strength during tough times and celebrates and cherishes the highs of life together. They respect each other's space and at the same time ensure to spend quality time with each other.
What is your favorite Idea of Holidaying?
My favourite idea of holidaying is being with my loved ones at a beach resort. I have numerous wonderful memories of fun family vacations at select beach resorts, where I could get to spend time at leisure watching sunsets across the sea, along with my family. The perfect mix of sea and sand is romantic bliss. For me, the tranquility and the calmness of the waves transports me to a dreamy world, which relaxes and refreshes me; and is a perfect therapy for my body, mind and soul.
Why you are participating in Mrs. India Queen of Substance?
Mrs. India Queen of Substance (MIQS) is a platform that enables women from various backgrounds and upbringing to come together and showcase their unique talent and how they can contribute for their success as well as contribute to a social cause. I am a self-made professional who has worked hard amidst challenging situations and achieved various milestones in my personal and professional life, which I am proud of. But this is not all. I want to conquer new peaks of success. For me, a woman is successful if she is able to effectively balance all four key spheres of life — family, career, health, and society wherein I have defined milestones for each. I strongly believe Mrs. India Queen of Substance is a life-changing experience as well as the right tool to achieve these milestones, and thus my dream. For me, it is not only participation, but I am looking forward to this holistic journey of personal development and embracing my true self.
What bothers you most about what is happening in the country today?
While India has grown into a superpower globally and has one of the fastest-growing economies in the world, I feel the two most important tenets of our society are still lagging behind. Women's Safety is the topmost concern we have today. It still gives me sleepless nights and sends shivers down my spine when I read or hear about the harassment that women come across in our country even today. I long for a day when my beloved country would be free of all crime against women, and women will have no fear. Women's Education is also a big concern, especially in rural India. This I believe, is an issue of archaic mindset as well as lack of progressive thinking and it requires a transformational paradigm shift. The age-old saying comes true- "When you teach a woman, you teach the entire nation."
The Quote or saying that encourages you?
Success is not final; failure is not fatal; it is the courage to continue that counts!
What is true "Sportsmanship" for you?
I believe that winning or losing with grace is more important than just winning or losing. Healthy competition is a space where participants don't compete with each other but complete each other. My parents have always taught me while we all participate to win, it is more important to have respect, fairness, ethics, integrity, and a sense of fellowship with other participants. This mindset gives me immense mental peace, and I can always walk with my head held high.
If you were selected as a Charity Ambassador what Value addition would you like to make for our Society and how?
Given my focus on key societal issues – women's safety and women's education, I would like to contribute not only towards a charity fund, but also play an active role in promoting and spreading awareness about these issues and of relevant programs that support these causes. It is imperative to be engaged effectively at the ground level in such critical initiatives for our society. While I am already working towards these initiatives, this MIQS platform will help me better leverage and reach out to a wider audience and hence beneficiaries. As a famous saying goes: "Be the change you wish to see in the world."
As many as 28 contestants from many countries as well as different states of India were in the final for the Mrs India Queen of Substance competition.