Qatar Receives 2027 FIBA World Cup Ball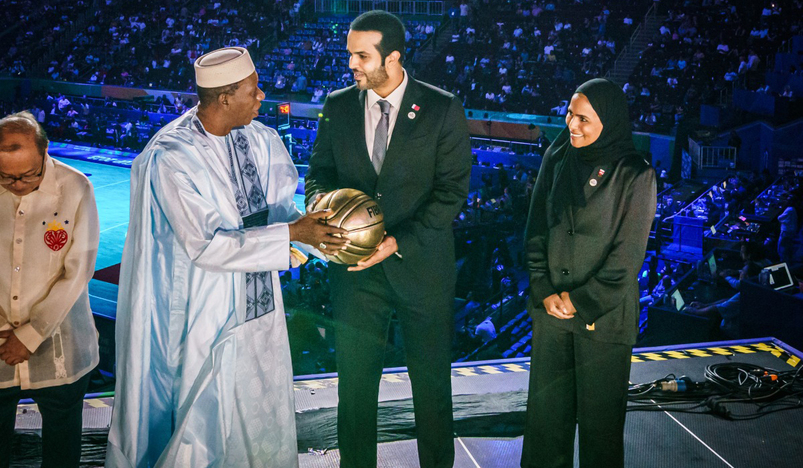 FIBA World Cup Ball
The State of Qatar officially received today the 2027 FIBA World Cup ball in a ceremony organized for the occasion, on the sidelines of the closing ceremony of the FIBA Basketball World Cup 2023 in Manila, the Philippines.
During the ceremony, Chair of the Philippines Local Organizing Committee Manuel Pangilinan passed the ball to FIBA President Hamane Niang, who in turn handed it over to Qatar Basketball Federation (QBF) President Mohammed Al Meghaiseeb and Qatar Olympic Committee (QOC) Marketing and Communications Director Sheikha Asma Al-Thani.
On the occasion, the QBF President expressed his pleasure by saying: "We are delighted to receive the Basketball World Cup ball and to have had the opportunity to witness the organizational experience of the Philippines and the distinguished organization that accompanied it," Al Meghaiseeb then added: "Hosting such a significant sporting event for one of the most popular games in the world is another step in our sporting career, and we will be keen to take advantage of this opportunity to organize an exceptional edition that will attract the interest of a new group of followers and fans." Following the evaluation of candidate country files, the FIBA Central Board announced its choice of the State of Qatar as host of the FIBA Basketball World Cup 2027, with this being the first time for the tournament to be held in the Middle East and North Africa region.
FIBA cited the State of Qatar's exceptional facilities, as well as the country's great keenness on developing sports, in addition to its rich track record in hosting major sports tournaments, most notably the FIFA World Cup Qatar 2022, as reasons for its decision.
Furthermore, the Qatari file puts a special focus on legacy plans, thus, emphasizing the contribution of the tournament to basketball's development regionally and globally. With the readiness of the sports facilities that will host the 2027 Basketball World Cup, this edition of the tournament will become the most sustainable version in its history.
Following the 2019 edition in China, and this year's in the Philippines, Japan, and Indonesia, Qatar will host the third consecutive FIBA World Cup in Asia. With the participation of 32 teams in the 2027 FIBA Basketball World Cup, fans will enjoy the opportunity to have a unique experience and to attend a larger number of matches.
(QNA)