Qatar Parachute Jump Team Win Gold Medal in CISM World Military Championship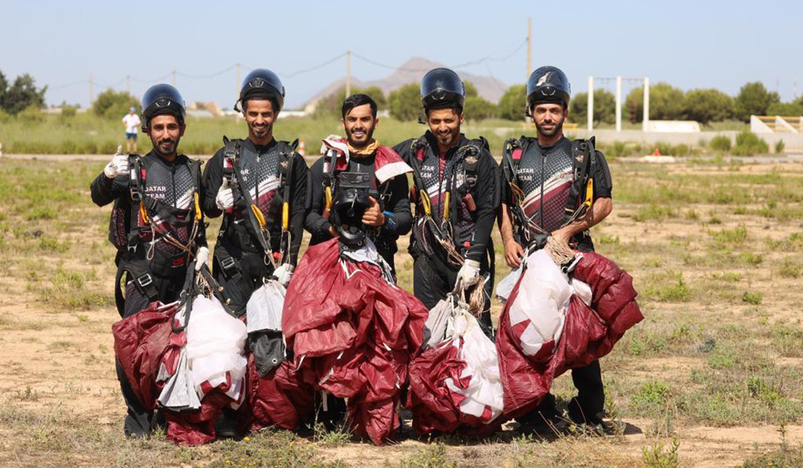 Qatar Parachute Jump Team
Qatar's parachute jump team, affiliated to the Qatar Air Sports Committee (QASC) at the Joint Special Forces, has won the Gold Medal in the cohesion quadruple parachuting at the conclusion of the CISM World Military Championship for 2023 held in Spain.
The team ranked first with 141 credit points, ahead of Spain and Turkiye. The cohesion quadruple parachuting team included Hamad Al Marri, Abdul Aziz Al Shammari, Rashid Al Kubaisi and Muhammad Al Namlan.
HE Commander of the Joint Special Forces Staff, Chairman of QASC Brigadier General Jassim bin Ali Al Attiyah said he was delighted to see this great achievement the team made, confirming that it was a natural achievement which came because of the unlimited support received by the Qatari sports from the wise leadership. He added that the team's participation in this championship was distinguished, as the team was determined to achieve the best results to raise the Qatari flag on the platform of this incredible festival.
Vice chairman of QASC Abdullah Saeed Al Mansouri noted the achievement made Qatar's team in this championship which came after a powerful contest among participants who competed to win first places, affirming that the achievement was made by virtue of the substantial support the team has been receiving, along with the champions' determination who met the high expectations and keenness to raise Qatar's flag in this tournament.
Qatar's parachute jump team appeared well with full determination, Al Mansouri said, emphasizing that the presence at the platform is an overwhelming evidence of the gargantuan task QASC has been carrying out to graduate excelled jumpers in all contests.
In addition, secretary-general of QASC Captain Hazza Hamad Al Attiyah expressed his happiness for this great achievement, affirming that it came by virtue of the champions' determination who meet all expectations and keenness to raise the flag of the beloved Qatar into the sky of Spain.
For his part, captain of the team Lieutenant Hamad Al Marri said he is so glad to have this achievement which came after powerful competitions among the contenders to achieve the first places, pointing out that the team's appearance was excellent.
(QNA)