Qatar National Library Celebrates Arabic Literature and Reading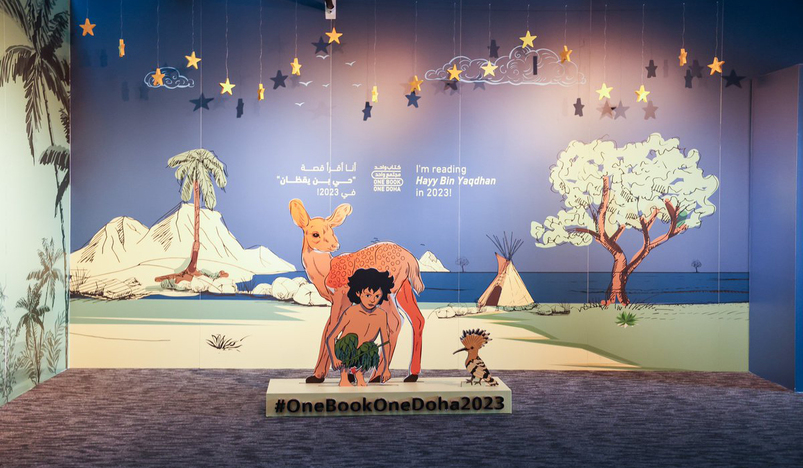 Qatar National Library
Qatar National Library (QNL) is hosting an exhibition dedicated to the timeless Arabic literary masterpiece Hayy Ibn Yaqdhan, as part of the nationwide 'One Book, One Doha' campaign by Qatar Reads.
The annual reading campaign brings the community together to share an appreciation of Arabic literature and promotes a love for reading. The influential Hayy Ibn Yaqdhan, written by the philosopher Ibn Tufail in the early 12th century, is Qatar Reads' selection for this year.
Visitors are immersed in the fascinating narrative of Hayy's life growing up in isolation on a deserted island, making the exhibition a uniquely enriching way to experience the power of reading. The interactive, engaging exhibition has already proved popular since it opened, with school groups and young visitors from the Qatar Foundation Ability Friendly Summer Camp enjoying specially curated exhibits that bring the story to life.
Highlighting the transformative phases of Hayy's development, the exhibition delves into the book's different themes, such as the relationship between man and nature. A dedicated section highlights the significance of sustainability and its relevance to Hayy's journey and survival on the island, as well as broader contemporary implications.
Frequently published and translated, the classical book has had an enduring influence for centuries. Highlighting some of these efforts, the library showcases three distinguished Qatari publishers who rewrote the iconic story, as part of this year's 'One Book, One Doha' campaign, for different age groups: Dar Nabjah for children, HBKU Press for young adults, and Dar AlWatad for adults.
The exhibition has several interactive elements. Visitors can walk through a timeline of Hayy's life, vividly depicted in original paintings from the Dar Nabjah edition. A historical showcase focuses on literary heritage, giving visitors the chance to view original copies of the book in Arabic, English, and Dutch, sourced from the library's prestigious heritage collection. There are activities for all ages and the knowledge test is a fun quiz for anyone wanting to test their understanding of Hayy's story.
Encouraging the community to take part, Director of the Qatar Reads initiative Fatima Al Malki said: "The Hayy Ibn Yaqdhan Exhibition brings to life a powerful story, rich with messages to inspire and nurture a deep appreciation for Arabic literature and reading. Beyond this, it's a chance to connect and share unique perspectives with others and be part of establishing a vibrant reading culture in Qatar. We encourage everyone to come and visit the exhibition." "Hayy Ibn Yaqdhan" is open to the public during the library's normal hours until September 12 .
(QNA)