Qatar Museums Gift Shop Hosts Engaging Scavenger Hunt at the National Museum of Qatar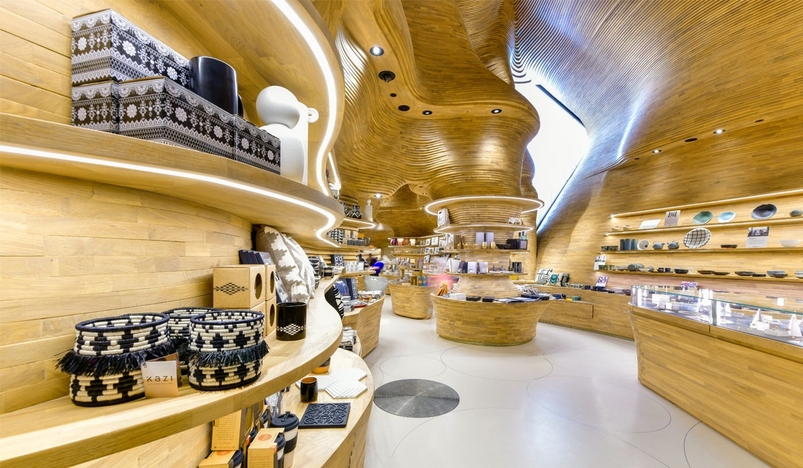 Qatar Museums Gift Shop at NMOQ
Doha, 10 August 2023 – The Gift Shop at the National Museum of Qatar (NMoQ), operated by IN-Q Enterprises (IN-Q) - the commercial arm and wholly owned subsidiary of Qatar Museums (QM), recently ran a series of interactive scavenger hunt activities. These activities provided visitors with a unique opportunity to delve into Qatar's rich cultural heritage and history while engaging in a fun-filled race to complete the hunt with the most correct answers within the given time. More than ten teams eagerly embarked on a journey of discovery, uncovering hidden gems and fascinating facts about Qatar's past and present. The scavenger hunt not only entertained participants but also fostered a deeper connection with the museum's galleries and their captivating stories.
The winning teams were awarded with special gifts from the NMoQ Gift Shop, and Café 875 treated the participants to delightful refreshments. Café 875, located at NMoQ's Mezzanine and operated by W Doha Hotel & Residences (W Doha), offers a wide selection of delicious and healthy menu options, including early riser treats, light bites, signature main dishes, and delectable desserts to complement a variety of cold and hot beverages.
"We are delighted to host these interactive scavenger hunt activities at the National Museum of Qatar as part of an ongoing initiative. Our ultimate goal is to create a strong and lasting bond between the community and Qatar's cultural heritage, by providing experiences that offer visitors the chance to embark on a journey of discovery through the country's extraordinary history and vibrant culture. At the same time, we aim to showcase the exceptional talent and skills of our local artists, who contribute to the diverse offerings of the NMoQ Gift Shop," explained Ms. Victoria Alexander, Deputy Director of Strategic Operations, expressing her enthusiasm for the event.
QM Gift Shops, present across Qatar Museums, offer a carefully curated collection of artisanal crafted homewares inspired by art and cultural pieces - perfect for gift giving.  From high-quality replicas, ceramic ware, woodworks, jewellery, stationery and novelty accessories to children's books, there is always something new to discover.  Each object tells fascinating stories of the past while at the same time, inspiring the future.
Meanwhile, Mr. Wassim Daageh, General Manager of W Hotel commented on the initiative, saying "W Doha continues to provide tailored culinary experiences throughout our restaurant outlets, including Café 875 at the museum. We share a common vision with IN-Q and NMoQ to showcase the true richness of Qatar's culture and heritage. We aim to enhance the museum visitors' overall experience and complement their journey of discovery into Qatar's fascinating history and traditions with our culinary offers."
From one museum to another, another round of scavenger hunt series, promising more adventure and exploration of Qatar's culture and heritage, will take place.  More information and updates on the next venue and registration process will be available at IN-Q Gift Shop's social media platforms -Instagram and Facebook.