Qatar EHTERAZ Update: Third Booster Dose of COVID-19 Vaccine Feature Added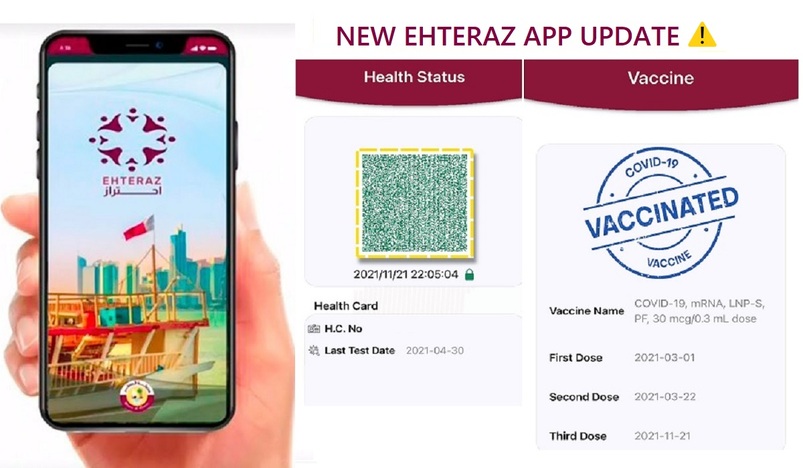 Latest Update in Qatar's Ehteraz COVID-19 app
An update has been recently added to EHTERAZ mobile app since the golden frame showing received vaccination has become full of dashed lines. This is applicable to people receiving the third booster dose of Coronavirus (COVID-19) vaccine as part of information on the vaccine and number of doses. 
This came hours after the Ministry of Public Health (MoPH) announced administering booster doses of Pfizer-BioNTech and Moderna COVID-19 vaccines approved in the State of Qatar to individuals most vulnerable to the risks of COVID-19 who received the second dose of the vaccine above eight months ago.
Why is a COVID-19 Booster Vaccination needed?
The latest internationally recognised clinical evidence shows that average protective immunity obtained from the first two doses of the Pfizer-BioNTech and Moderna vaccines begins to decline after eight months.
The booster vaccination will give citizens and residents longer-term protection against all variants of COVID-19.
What is the process to make an appointment for a COVID-19 vaccine booster dose?
Primary Health Care Corporation (PHCC) are contacting eligible individuals directly to set an appointment. The Ministry of Public Health urged citizens and residents to receive their COVID-19 booster vaccination once eligible to ensure immunity and protection against COVID-19 remains.
An appointment is required for all COVID-19 booster vaccinations and currently no walk-in appointments are permitted.
Who is currently eligible to receive a COVID-19 Booster Vaccination?
Currently, high-risk individuals who have their second dose of a COVID-19 vaccine more than eight months ago are eligible.
This includes: 
• Those over 50 years of age 
• Those who are immunocompromised 
• Those, regardless of their age, with chronic medical conditions that increase their risk for contracting a severe case of COVID-19 
• Frontline healthcare workers
Source: Hukoomi and MoPH