Qatar Celebrates International Day of University Sport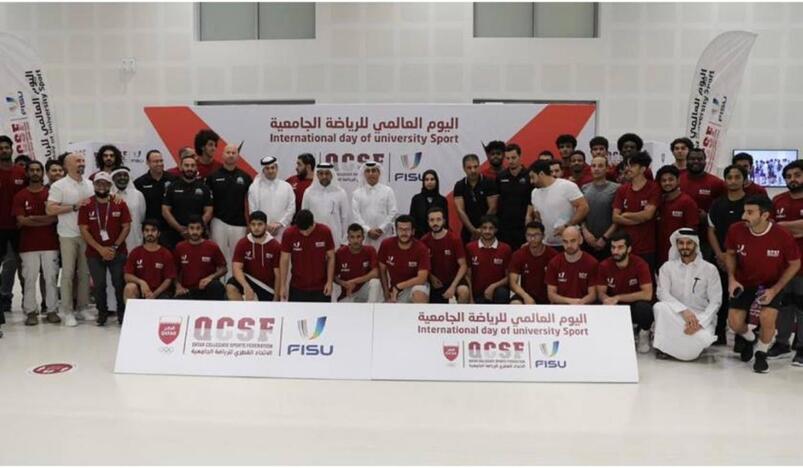 Qatar Celebrates International Day of University Sport
The State of Qatar celebrated Tuesday the International Day of University Sport (IDUS), which falls on Sept. 20 every year, in a number of universities, colleges and higher education institutions in the country.
The celebrations witnessed a wide participation of students and faculty members in a series of sports, physical, recreational, cultural and educational activities at various sites of the higher education institution, including Qatar University, Doha University of Science and Technology, Qatar Foundation universities, and a number of other universities and higher colleges, under the supervision of the Qatar Collegiate Sports Federation (QCSF).
HE QCSF President Dr. Ibrahim bin Saleh Al Naimi praised the interaction of students and stakeholders through their fruitful participation in the activities and programs of this international event.
In a statement, Al Nuaimi expressed his pleasure at celebrating the International Day of University Sport at the beginning of the activities of the QCSF and its community events, amid the participation of a number of higher education institutions, universities, colleges and stakeholders; saying that this is in line with the Federation's central goal, which is to promote sports and physical activities in higher education institutions according to international standards, in order to enhance awareness of the concept of sport and its positive impact on individual health among students and within the community system.
In the same context, QCSF Secretary-General Rashid Saeed Adiba said that this day represents an appropriate opportunity for students of higher education institutions in Qatar to demonstrate their talents, abilities and physical and sports skills during the organization of sports and community events at the local and international levels, reflecting the heritage and culture of Qatar as a sports-loving country, and its keenness to develop the human element physically and mentally through sports.
The International Day of University Sport is one of the official events approved in the agenda of the United Nations Educational, Scientific and Cultural Organization (UNESCO) and the International University Sports Federation (FISU), and aims to strengthen ties between universities and their local communities, through a number of activities focused on sports and healthy living, and creating communication between students around the world.
This day coincides in most countries of the world with the beginning of the school year, and the decision to choose and approve it came from UNESCO to celebrate it on Sep. 20 since 2016; because it is the date of the launch of the first World Championship for students 94 years ago in 1924.
The Qatar Olympic Committee officially announced on Aug. 2 the establishment of the Qatar Collegiate Sports Federation under the presidency of HE Dr. Ibrahim bin Saleh Al Nuaimi.
Source: QNA