Qatar Bowling Team Win 4 Medals at Arab Bowling Championship in Egypt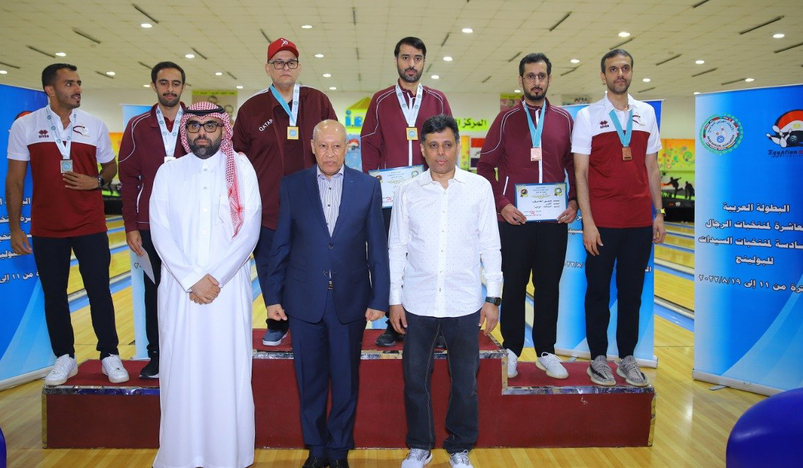 Qatari bowling national team
The Qatari bowling national team was crowned with gold, silver and bronze medals in the singles competitions and the bronze medal in the doubles competition, at the 10th Arab Bowling Championship in Egypt.
Qatar's Yousef Abdulrahman Al Jaber won the first place in the singles competition to be crowned with the gold medal after winning 1528 points, Jassim Mohammed Hazim Al Muraikhi came in second place to get the silver with 1407 points, while Mansour Mesfer Al Awami came in third place to get the bronze medal with 1374 points.
The duo of Yousef Al Jaber and Jassim Al Muraikhi won the bronze medal in the doubles competition after they finished in third place in the competition in which the Saudi team won the gold medal and the UAE team won the silver.
Egypt hosts the 10th Arab Bowling Championship for men and the sixth championship for women until August 19, with the participation of Qatar, Kuwait, Saudi Arabia, Jordan, Bahrain, Iraq, the UAE, Oman, Yemen, and hosts Egypt.
On the other hand, the General Assembly of the Arab Bowling Federation was held on the sidelines of this Arab Championship. The meeting saw the elections of the Federation's Board of Directors for 2022/2026 session. The elections resulted in the victory of Saudi Abdulmalik Al Shathri as president, and Qatari Saeed Al Hajri as board member.
Meanwhile, Qatar's bowling junior team is participating in the Asian Junior Bowling Championship currently held in Bangkok, Thailand. The Qatari national team's mission to the tournament is headed by Secretary-General of the Qatar Bowling Federation Bandar Mubarak Al Shafi and includes players Badr Khalid Al Sada, Hazeem Al Muraikhi, Sultan Abdullah Al Qattan and Nasser Rashid Al Mansoori.
(QNA)