Qatar Athletics Team Wins Four Colored Medals in Asian Championship in Thailand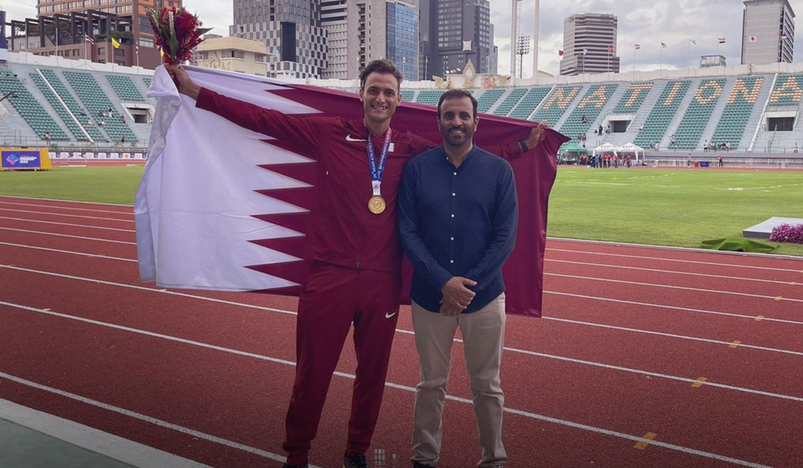 Qatar Athletics Team
Qatar athletics team finished its participation in the 25th Asian Championship by attaining fifth place in the overall standings, with four colored medals: two gold, one silver and one bronze.
Held in Bangkok, the tournament concluded with the participation of 41 countries competing for the colored medals and obtaining cards that qualify for the World Championship in Hungary in August.
Qatar's medals were won by Bassem Hemeida, who won the gold of the 400m hurdles, Abu Bakr Abdullah, who won the gold of the 800m race, Yasser Salem, who won the silver of the 1500m race, and the 4x400m relay team, which won bronze at the end of the championship.
Japanese team topped the championship standings with 37 colored medals: 16 gold, 11 silver and 10 bronze, followed by Chinese team in second place with 22 colored medals: 8 gold, 8 silver, and 6 bronze, and Indian team in third place with 27 colored medals: 6 gold, 12 silver and 9 bronze.
HE President of the Asian Athletics Association (AAA) Dahlan Jumaan Al Hamad expressed his happiness at the success of the tournament in terms of the number of participation and achievements at the field and track levels, pointing to the great capabilities shown by the continent's athletes in competing for colored medals and qualifying for the World Championships and the Olympic Games.
He praised the distinguished organization of the tournament in administrative and technical aspects, and said that he had never doubted the capabilities of the Kingdom of Thailand in organizing the tournament that coincided with the celebration of the AAA's fiftieth anniversary of its founding.
Al Hamad thanked Thai officials for their support and their great interest in the championship, considering this as a sign of appreciation for athletics and their keenness to expand its base at the generational level.
(QNA)