Qatar Airways delivered over 600 million doses of Covid-19 vaccines during pandemic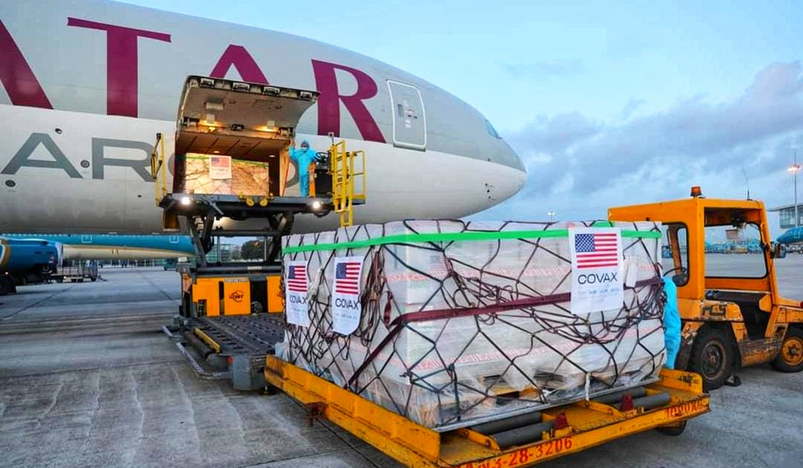 Qatar Airways
Qatar Airways Cargo has transported more than 600 million doses of COVID-19 vaccines over the course of the Coronavirus pandemic to date, reveals Qatar Airways Annual Report 2021-2022.
Qatar Airways Cargo was able to fulfil its commitment to the Unicef COVAX programme, transporting over 154 million doses of COVID-19 vaccines as part of a memorandum of understanding (MoU) signed in February 2021, providing five years of vaccine transport support to this important cause, the report further revealed.
The report which was recently released further indicates with a significant proportion of this gross tonnage comprising of medical equipment, PPE and critical supplies to support the ongoing global pandemic recovery, the carrier also cemented its status as a major transporter of pharmaceuticals and medical supplies.
"Serving over 65 dedicated freighter destinations and more than 140 belly-hold passenger destinations worldwide, the carrier mirrored its strong performance from 2020/2021, operating a maximum of 155 flights per day at its peak in the month of June 2021. With a tonnage growth of 272,975 tonnes in chargeable weight, Qatar Airways Cargo demonstrated almost 10% growth on the same period in the previous year, transporting 3,000,961 tonnes of air freight and accounting for a 7.99% share in the global market from 1 April 2021 to 31 March 2022," the report reveals.
It added: "The airline transported more than 600 million doses of COVID-19 vaccines over the course of the pandemic to date and also concentrated its efforts in enhancing its renowned Pharma product and industry presence, while also ensuring commitment to its ground-breaking 'WeQare' initiative, which Qatar is based on the core pillars of sustainability — environment, society, economy and culture." 
In July 2021, Qatar Airways Cargo became a member of both Pharma.Aero as well as the Cool Chain Association, in its endeavour to collaborate in defining the highest standards in the shipment of valuable pharma goods and ensuring sustainability in transportation by avoiding integrity deviations leading to medical or food wastage.
According to report, with a solid and ever-growing network, as well as consistently high-level levels of customer service, Qatar Airways Cargo earned three major industry awards during the 2021/2022, including Cargo Operator of the Year at the ATW Airline Awards; Cargo Airline of the Year, and Air Cargo Industry Achievement Award at Air Cargo Week's World Air Cargo Awards. 
In November 2021, Qatar Airways Cargo became the first carrier to join the IATA CO2NNECT platform, launching a new voluntary carbon offsetting programme, part of its WeQare sustainability programme, for air cargo shipments.