Qatar Airways Cargo delivers 60 million roses for Valentine's Day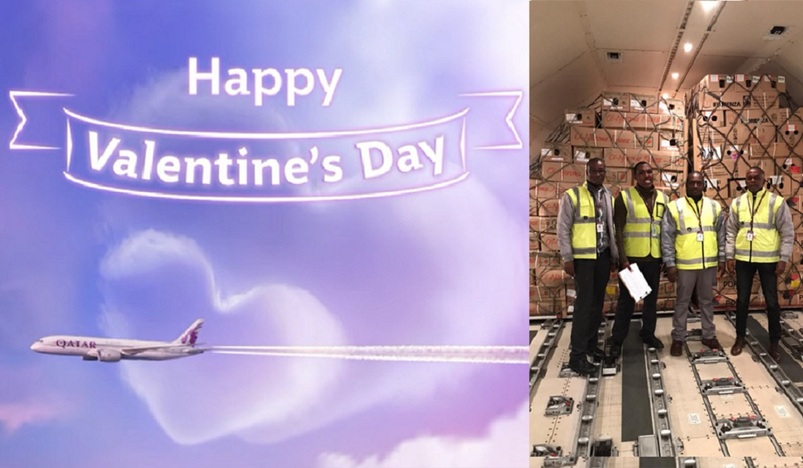 Qatar Airways Cargo
Qatar Airways Cargo has flown 60 million roses out of Ecuador, Colombia and Kenya in the run-up to this year's Valentine's Day.
The parcels were on board of one of the many Qatar Airways Cargo special charters and flights networking the world. 
Qatar Airways Cargo, customers, and cargo teams begin preparing months in advance, "with the flower farms projecting more or less the tonnage that will move for the season," said Qatar Airways Cargo Vice President Cargo Americas Ian Morgan.
These forecasts determine whether additional flights are required to supplement the scheduled freighters during the peak flower transportation phase which begins around January 17 to 7 February. Similar to 2021, the effects of the pandemic on available capacity and resources posed an additional challenge during planning.
The main destinations out of Quito (UIO), Ecuador and Bogotá (BOG), Colombia, are in the US, Europe, Russia, and Australia. "This year, the Ecuadorian market had to deal with 24 percent less capacity into Europe, and around 16 percent less capacity into the US market," illustrates Morgan, which led to three additional Quito-Miami (MIA) and four extra flights from Quito to Europe and onward to Doha, complementing the five regular weekly freighters out of Quito. 
Colombia has been well served with its two scheduled flights per week out of Bogotá. However, the planning does not stop there; intricate, temperature-controlled onforwarding is also set up to ensure that the flowers arrive fresh and on time at their end-destinations. "We use road feeder services from where the flights operate into Europe to Amsterdam (AMS), in the Netherlands, where the logistics are set-up for Russia and other Eastern European countries," he said.
"This is Qatar Airways Cargo's second season out of Colombia  and our sixth season out of Ecuador," he continued. These respective countries are the second and third largest flower exporters in the world, after the Netherlands.
Qatar Airways Cargo has positioned itself during the pandemic as a critical supplier of capacity. The cargo carrier has further strengthened its position, and brought stability, as well as an ever-expanding global network, to its local market. "The relationship we have with our customers is never more evident than during the darling season. The trust and support we have developed has ensured that there is, and always will be, a strong relationship in Ecuador and Columbia," Morgan stressed. 
Over in Kenya, ranked fourth in global flower exports, Qatar Airways Cargo Regional Cargo Manager Africa, Nicolas Danton points out that the carrier has been involved in the transport of flowers from Nairobi (NBO) for more than 10 years and that the airline "will be largest cargo operator in NBO" in the run up to celebrate with the loved ones. 
"Qatar Airways Cargo is always there to support the regular customers with extra capacity," continued Danton. Transport starts in the last week of January through to around February 9. Following careful handling before departure, they travel to Liège (LGG), Belgium, from where they are trucked to Amsterdam, the biggest market for flowers in Europe. "A lot of coordination is required to arrange the charters with the authorities, and to handle the extra volumes and flights during that period," explained Danton, emphasising the close and constant customer contact to ensure proper shipment planning on the respective flight days. 
"At Qatar Airways Cargo, our aim is to encourage our customers' success. We are supportive of everything they do and always go the extra mile to assist where they need us the most," he concluded.