Qatar's Samba and Hemeida wow all with gold and silver finish in 400m hurdles at Hangzhou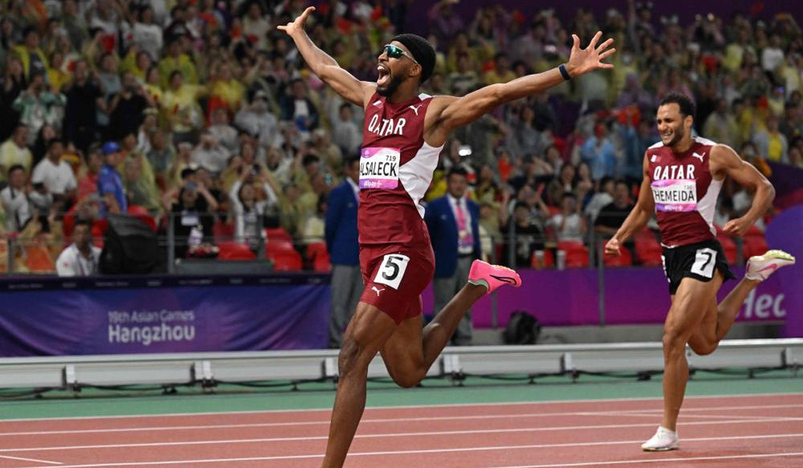 Abderrahman Samba Alsaleck
Showman Abderrahman Samba Alsaleck, sartorially splendid in dark shades, gave Qatar its second gold medal on the track when he won the men's 400 metres hurdles at the 19th Asian Games in Hangzhou on Tuesday.
Looking every bit a gangsta rapper with his dark glasses, Samba left everyone in the shade as he led Qatar to a 1-2 finish with compatriot Bassem Hemeida taking the silver medal.
Samba ran his best race this season to finish first in 48.04 seconds. It was Qatar's second gold on the track following Mohamad Al-Garni's triumph in the men's 1500m last Sunday. Hemeida took the silver in 48.52 while China's Xie Zhiyu ran 49.16 for bronze.
"It's all a show. You need to be looking good and that is what it's all about," Samba said.
Indeed, he looked good as he breezed to an easy win and celebrated with an extravagant victory salute as he crossed the line.
Samba retained his 400m hurdles title at Hangzhou while Hemeida took silver making it an historic 1-2 for Qatar.
Qatar also assured two more medals in squash and handball. Abdulla Al Tamimi entered the semis-finals of the singles squash with 3-0 (11-2, 11-7. 11-2) win over Malaysia's Mohamed Bin Bahtiar, while the handball team are on course to defend their gold after entering the final with a 29-24 win over Kuwait on Tuesday.
Samba, who was fifth at the Tokyo Olympics but has been plagued by injuries, could not have asked for a better comeback.
"I am proud to win this medal because it came at a very difficult time for me. It came after a series of injuries, including two injuries this season. But, thank God, I succeeded in overcoming all the difficulties and was able to return with all strength and win the gold medal," he said.
"It is wonderful to end the season with this medal and this will serve me as a great motivation before the 2024 Paris Olympics Qatar coming 1-2 makes it really special. Now we have two medals in 400m hurdles, that is really difficult at a world level," the 28-year-old said.
Hemeida was a semi-finalist at the Budapest World Championship in August and the 23-year-old underlined his quality with another big performance. "My happiness is doubled in winning the silver because the gold was also won by Qatar through Samba. We feel very proud after this achievement and I cannot describe my feeling in words," he said.
"It won silver, especially since I suffered an injury at the beginning of the season. But thankfully I came back with all my strength.
"My target was to win gold, though I fell short. This season was wonderful for me because I achieved many goals, including finishing first in the Arab and Asian Championships. This silver medal at the Asian Games will push him to work harder for the Paris Olympics," Hemeida added.
Qatar's men's 4x400m relay team also excelled in the heat qualifying for the final. They finished second clocking 3:05.92 behind India.
Meanwhile, Abdulrahman Hassan missed out on the bronze by a whisker in the 800m. The young Qatari was passed over by Oman's Husain Al Farsi on the line.
In an intensive race, Saudi Arabia's Essa Kzwani won the gold with 1:48.05, India's Mohamed Afsal finished second with 1:48.43, while Al Farsi took bronze with 1:48.51.