People without Qatari IDs can now use the EHTERAZ app. Here's how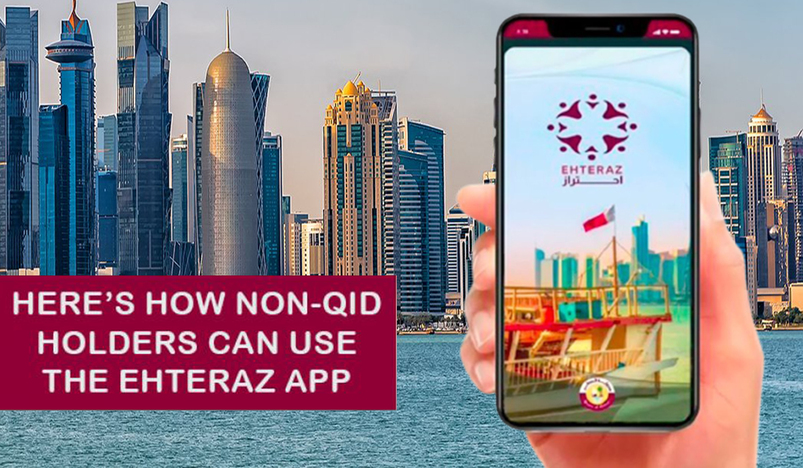 People without Qatari IDs can now use the EHTERAZ app. Here's how
EHTERAZ, the Covid-19 tracking app in Qatar, can now be accessed by non-Qatari ID (QID) holders by using their visa numbers to register.
The recent update is applicable only to Android users at the moment. Updates for iOS users will be announced soon. 
This update is good news for people in Qatar who still do not have QID or those who are currently under tourist/business/visit visa as the app is mandatory to be installed upon leaving the house for any reason since May 22, 2020.
If you are a non-QID holder, here is how to access the app:
The new update has two options on the home screen :
• QID Registration
• Visa Registration
If you choose Visa option, it will ask for your mobile number, Visa number and Nationality to get the verification pin.
Before releasing this update, it was not possible for business visa and visit visa holders to register on the app. Now the latest version allows even people on Business visas to register on the app.
Please note that the registration with the visa option is in addition to minor bug fixes and enhancement, as mentioned in the update on the app's details on Android's Google Play Store.
EHTERAZ is your trusted smart application to follow up on the latest updates of COVID-19 Coronavirus in Qatar.
The app has been designed and developed by the Ministry of Interior to support all categories of the Qatari community to spread the health awareness tips and techniques as well as the protection methods that are necessary to halt the outbreak of Coronavirus.
This smart tool is also meant to give a hand to those people that are responsible for their families in their endeavors to protect their love ones, and to support healthcare and related entities in order to protect the safety of individuals and that of the Qatari community from this pandemic virus at large.
It is also now required when entering supermarkets, banks, and some other establishments around Qatar. Individuals with GREEN healthy status on the app are the only ones allowed entry to these places.
If you are facing any technical issues on the EHTERAZ app, contact 109 helpline.