Parks to Visit this Eid 2022 in Qatar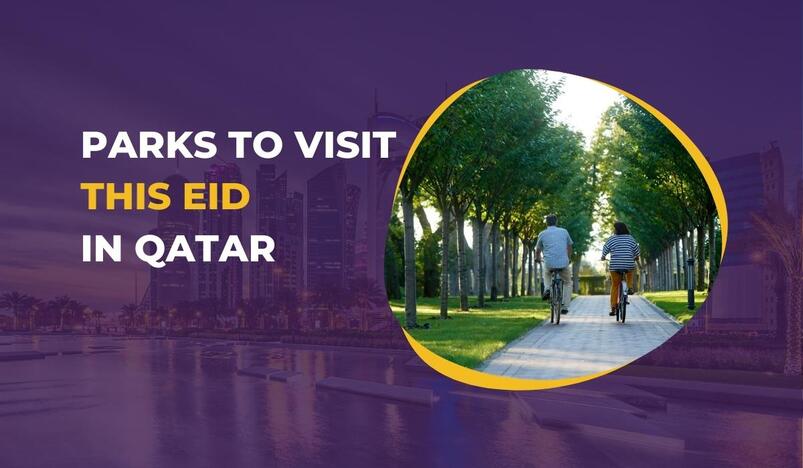 Check out the best parks you can visit in Qatar this Eid
Are you wondering where to go this Eid? Have you thought about exploring some fantastic parks in Qatar that you can take your kids to? We have gathered some of Qatar's best parks you can visit today.
Enjoy this Eid and celebrate with your friends, family, and loved ones, and have fun knowing that you have visited the best parks in Doha. 
Here are some of the best parks you can go to this Eid:
1. Al Bidda Park
Al Bidda Park is one of Qatar's most beloved parks. It comprises three park areas, including Al Bidda, Arumailah, and Wadi Al Sail.
The gorgeous Park is the best option to spend a picnic day with your loved ones, where you will find stunning landscapes and beautiful landmarks such as The Arched Monument, The Water Plaza, and The Amphitheater.
At Al Bidaa Park, you can play many sports, such as football, tennis, volleyball, basketball, and more, at the designated sports court that requires online booking on the Park's website. These courts are available on either Arumailah or Wadi Al Sail sides of the Park.
Spend quality time with your kids in areas for Play & Entertainment, and find Purpose-built barbeque stations and Gazebos within the park zones, which you can reserve in advance. 
Today, Al Bidda Park is Qatar's favorite choice. Al Bidda Park is located near Doha Cornich and can be easily accessed by Doha Metro. 
Location: Al Bidda, Doha-Qatar
Contact: +974 44287777
Email: info@albiddapark.com
2. Museum of Islamic Arts (MIA) Park
Enjoy a relaxing day at MIA park as you gaze over the Doha West Bay area.
At MIA park, you can enjoy gathering with your friends for a drink at the MIA Park Coffee Shop, spend a day with the kids at the family play area, or rent a bike or Bungee trampoline that costs 25 Qatari Riyals per session. 
Location: Museum of Islamic Art, Corniche
Contact: +974 4422 4444.
3. Aspire Park
Enjoy a fun picnic with your loved ones, and spend a day of fun at Aspire Park, one of Qatar's most popular parks. 
At Aspire, you get to do many things, and there are many restaurants, cafes, jogging paths, and exercise tracks. In addition, you can visit Aspire Lake to see ducks, and birds and rent a paddleboat. 
At Aspire Park, there is something for everyone. 
Location: Aspire Zone
Contact: 4413 8188
Email: social@aspirezone.qa
4. 5\6 Park
The 5/6 park takes its name from the '5/6 arch' monument. 
What is so unique about the Park is that it is in the shape of a maze that matches Qatar's shape on the map. 
5\6 Park is one of Qatar's most beautiful parks and serves as a perfect destination for Doha's west bay scene.
5\6 Park is in the Onaiza area, and it is within walking distance from Katara. It is the best Park you can visit in Qatar.
5\6 Park is a beautiful park with many green spaces and comfortable walkways, and you stay in shape using jogging tracks, bicycle lanes, and more.
The Park has cushioned playgrounds, a fitness/exercise area with equipment, cycling, jogging paths, and stone and sand walkways.
Location: Onaiza
5. Oxygen Park
At Oxygen Park, as the name suggests, you get to stay fit and enjoy some fresh air and have fun in a natural environment where many trees and plants are present. 
Situated at the heart of Qatar Foundation, at Oxygen Park, you get to enjoy participating in many sports. It is the perfect destination for students, women, children, and families to enjoy sports in a peaceful and private environment. 
Oxygen Park is the perfect recreational destination. It has an amphitheater, a children's play area, water gardens, and many other facilities such as volleyball courts, soccer fields, race tracks, etc. All tracks are shaded so park attendants would not get hot during the day. 
The park also has an amphitheater, a children's play area, water gardens, and many other facilities.
Oxygen Park can be easily accessed via Doha's Metro Greenline. 
It is also accessible by the M202 Metrolink Route (Greenline).
Location: Education City
Contact: +974 44540000
Email: info@qf.org.qa