Paris Saint-Germain return to Japan for another summer tour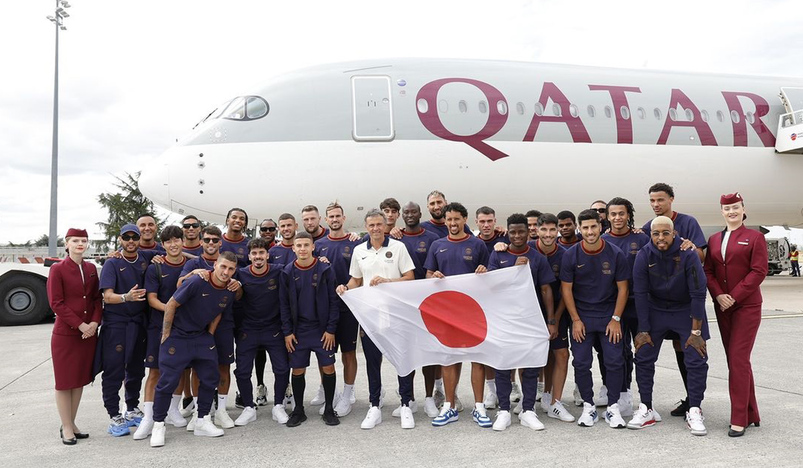 Paris Saint-Germain
For the second year in a row, Paris Saint-Germain flew to Japan on Saturday for the now traditional pre-season Summer tour which runs till August 1. The club was delighted to meet up again with its Japanese fans which grow in number with each passing year.
For nearly two weeks, Japanese fans of Paris Saint-Germain football and handball will have numerous occasions to check out their favourites as they prepare for the 2023/2024 season. Open-door training sessions and matches will allow the club to gauge its ever-growing popularity on the other side of the world. In 2022, around 31,000 fans watched each training session while a new attendance record for a football match was set at the National Stadium in Tokyo when some 65,000 supporters turned out for a PSG game.
Paris Saint-Germain will play three games during the tour: at Yanmar Stadium Nagai in Osaka against the Saudi team Al Nassr on July 25 and against the Japanese team Cerezo Osaka on July 28, before taking on Champions League finalists Inter Milan on August 1 at the National Stadium in Tokyo. These prestigious games will provide excitement and passion for Japanese and international fans alike who can watch the games on PSG.TV, the club's Twitch channel or beIN Sports.
Sebastien Wasels, Managing Director Asia Pacific, says: "We are honoured to be back in Japan again this year. This tour is a fabulous opportunity to connect with our Japanese fans whose passion provide inspiration for all our teams, among coaching staff and players alike."
The Paris Saint-Germain handball team will celebrate its 10th French title win with the Japanese public when they face Zeekstar Tokyo on July 31 and again on the occasion of a gala match against the Japanese national team on August 2.
Already present in Japan via its fan club, academy, three official shops between Tokyo and Nagoya and its social media platforms, notably Line and Twitter, Paris Saint-Germain will again bolster its presence with the PSG House in Osaka from July 24 to 30. In this space set up, especially for the tour, operated by Edifice and presented by GOAT, Japanese fans can experience sport, fashion and lifestyle in the inimitable PSG way. Paris Saint-Germain will also take advantageof the Japan Tour to offer its partners with the opportunity to activate their marketing rights, including Qatar Airways, ALL, Nike, Purnell and beIN SPORTS.