Palestinian toddler hit by Israeli army gunfire dies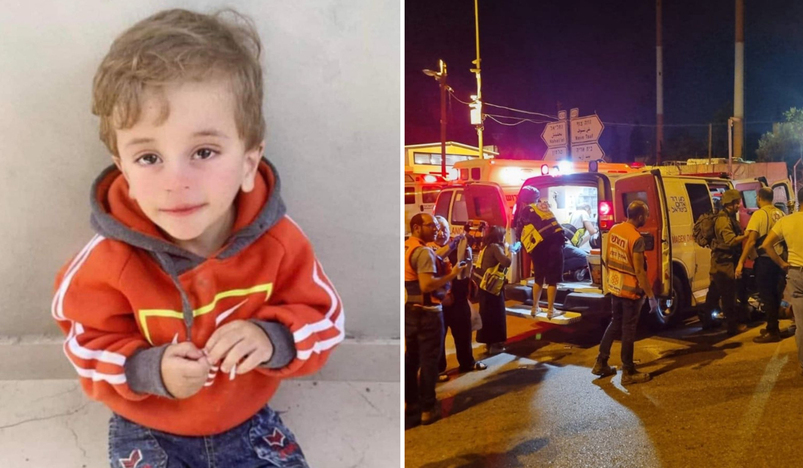 Mohammed Tamimi
A three-year-old Palestinian boy has died four days after being shot in the head by Israeli forces.
Mohammed Tamimi and his father were shot while leaving their home in Nabi Saleh, in the occupied West Bank.
The Israel military said its soldiers opened fire while in pursuit of two gunmen who had earlier shot at a nearby Jewish settlement.
In a statement after the incident, the military added that it regretted harm to "non-combatants".
Palestinian activist and journalist Bilal Tamimi - who was also injured - said that the Israeli army was waiting to ambush a car at the entrance to Nabi Saleh and opened fire as it approached.
The toddler was taken by an Israeli military helicopter to Safra Children's Hospital in Israel to be treated for head injuries, but did not recover.
His father, Haitham, has now been discharged from a Palestinian hospital. It is understood he was able to visit his son in Israel before he died.
The Israeli military, which has a post just outside Nabi Saleh, previously released grainy video which apparently shows two figures shooting guns. It said the shooting towards the settlement of Halamish - also known as Neveh Tzuf - lasted "several minutes".
It said that its soldiers responded with live fire, causing two Palestinians to be injured.
"The [Israeli military] regrets harm to non-combatants and is committed to doing everything in its power to prevent such incidents. The incident is under review," it stated.
The settlement of Halamish was set up in the 1970s and has long been a source of friction with Palestinian villagers living close by.
For several years, Friday demonstrations took place in Nabi Saleh, with local activists protesting against the confiscation of the village's lands and the takeover of its spring.
These would often lead to violent confrontations with Israeli soldiers using tear gas and rubber bullets to block their path.
Since the start of the year, some 150 Palestinians have been killed by Israeli forces or settlers in the occupied West Bank, East Jerusalem and the Gaza Strip. The figures include militants as well as civilians.
In addition, 23 people on the Israeli side have been killed - including two foreigners and a Palestinian worker - in violence related to the Israel-Palestinian conflict. One of those killed was a member of the Israeli security forces.
On both sides, there are children among the dead. Mohammed Tamimi was the youngest Palestinian to have been killed in the West Bank.
Some 700,000 settlers currently live in the West Bank and East Jerusalem. Settlements are considered illegal under international law although Israel disputes that.
BBC