Pakistani PM Hails Relations with Qatar as Unique, Urges Qatari Businessmen to Invest in Pakistan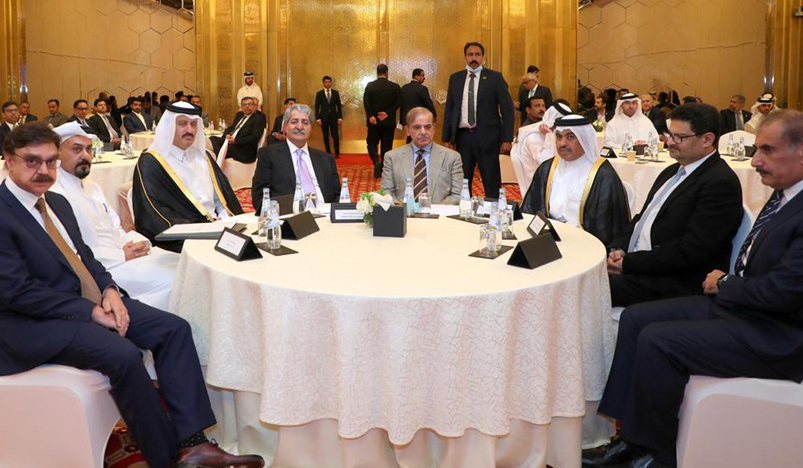 Pakistani Prime Minister Shehbaz Sharif
HE Prime Minister of the Islamic Republic of Pakistan Shehbaz Sharif described the relations between his country and the State of Qatar as "unique", calling on Qatari investors to intensively carry out investment projects in Pakistan.
HE the Pakistani Prime Minister was addressing the "Pakistan-Qatar Trade and Investment Roundtable 2022" which was held on Tuesday evening in the presence of HE Minister of Finance Ali bin Ahmed Al Kuwari, HE Undersecretary of the Ministry of Commerce and Industry Sultan bin Rashid Al Khater, Chief Executive Officer of Qatar Financial Centre Yousuf Mohamed Al Jaida, along with an array of Qatari and Pakistani business leaders.
In his speech, HE Prime Minister of Pakistan highlighted the special nature of the existing Qatari-Pakistani ties that are based on mutual respect and trust, pointing out that it is time for Pakistan to engage with the State of Qatar to promote the fraternal relations and explore new prospects, in terms of bilateral trade and investment.
He underscored his country's entire support for the Qatari investors in deepening their presence in Pakistan, including the firm commitment of his government to provide friendly environment for businesses and investments, pointing out that Pakistan embraces enormous natural and human resources, and that the geographical location of Pakistan enabled it to remain the primary conduit for trade, energy and transport in the region.
He believed that such a unique characteristic has made Pakistan a market full of investment opportunities. In addition, the country has a large consumer market with an ever-expanding middle class, providing attractive business opportunities for investors in food security and energy fields, including renewable energy sources, agriculture and livestock, information technology, hospitality and tourism sectors.
HE Prime Minister Shehbaz Sharif underscored that Qatar is a reliable partner and that Pakistan sincerely appreciates its support. He commended the vital and instrumental role the State of Qatar has acquired over time, when it appeared as a wonderful negotiator and mediator from Pakistan to other parts of the world, counting on its credibility as a country that knows well how to build peace and enhance calmness and harmonization.
Earlier, HE Minister of Finance Ali bin Ahmed Al Kuwari welcomed HE Prime Minister of the Islamic Republic of Pakistan Shehbaz Sharif and his accompanying delegation in his current official visit to Qatar.
During his inaugural speech at the Pakistan-Qatar Trade and Investment Roundtable 2022, HE the Minister of Finance highlighted the importance of this roundtable which represents a new impetus for the existing and deep-rooted relations between the two brotherly countries to promote and solidify the financial and economic fields of mutual benefit for the two countries. 
QNA