Over five Furjan parks to be built across Qatar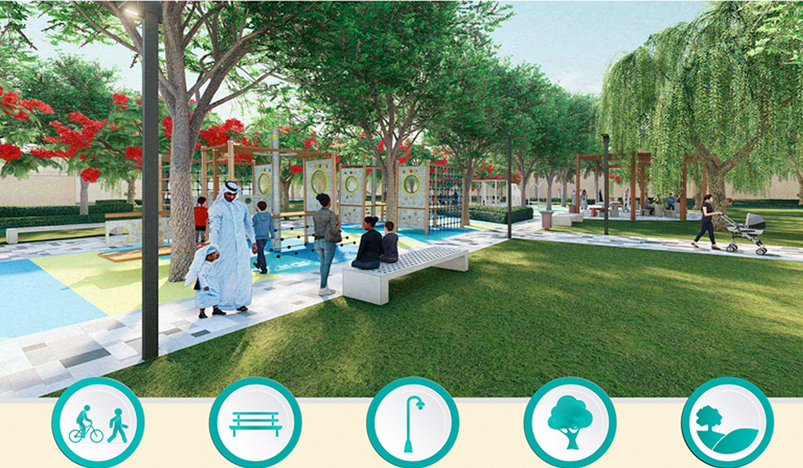 Qatar is planning to build Al Furjan "neighbourhood" parks across the country
Qatar is planning to build Al Furjan "neighbourhood" parks across the country in an attempt to "humanise cities and change a car-centric culture to a pedestrian and cyclist-friendly culture".
The parks project will be implemented by the Supervisory Committee of Beautification of Roads and Public Places in Qatar in cooperation with the Ministry of Municipality and Environment (MME).
Eng Amna Al Bader, the Secretary of the Committee, said it plans to deliver a park for every area across Qatar to be a breather for many residential neighbourhoods in Qatar. 
The parks are designed to be close to homes, easily reachable by pedestrians or cyclists, which encourage the people of the area to visit them regularly and spend quality time in a healthy and safe environment, which enhances social gathering and communication, she added. 
Eng. Amna Al Bader also added that increasing green areas within cities contributes to enhanced sustainability of environmental development in line with the fourth pillar of Qatar National Vision 2030, which aims to manage the environment in a way that ensures harmony and consistency between economic and social development and environmental protection, and to achieve the required balance between them.
Abdulhadi Al Marri, Climate Change Department Director at MME, stated that the ministry has allocated a number of lands across Qatar for Al Furjan Parks project to expand the construction of parks, planting of trees and increasing green spaces within the strategic plan, considering its impact on preserving the environment. These parks contribute to improve weather conditions, reduce pollution and lower temperatures during different periods of the year. They also have a key role in purifying the atmosphere and limiting the effects of climate change. Furjan parks will also contribute in protecting the neighbourhood from dust, which will reflect positively on the health and safety of people.
Mohammed Al Khouri, Director of Public Parks Department at MME, said, "The parks are basically constructed to act as a breather for community members. Thus, our prime focus is people and we work to provide high-quality service due to the fact that public parks contribute to increasing green area and improving quality of life, and are considered as natural filters to purify the air from carbon emissions, one important factor in increasing the share of each person per square meter of green space and achieving MME's objectives within the strategy of beautifying cities." 
The Public Parks Department at MME is making extensive efforts to equip all public parks in the country by identifying and studying plant species and trees that will be carefully planted in the parks so that it consumes small quantities of water, and are adapted to the local climate and environment conditions. Plantation will be a mixture between environmental trees and shady trees, considering that these parks are distributed in a thoughtful manner as per priority, and population density of different areas. The plan also considers the provision of appropriate services and various designs, according to the residents' needs. 
Eng. Jassim Abdulrahman Fakhroo, Projects Manager of the Committee stated that the committee is designing Al Furjan Parks to include many features that make it enjoyable destination for all family members, including elderly, youth and children. These features and services vary according to the area of the park, such as pedestrian and cyclist paths, seats, and some parks include kids' play areas, fitness equipment, kiosks, and others. Elderly people and people with special needs are also taken into consideration in the designs.
He added that designs for several parks are completed for areas including Fereej Al Soudan, Fereej Hazm Al Markhiya, Al Thameed, Rawdat egdaim, Al Mearad among others. The park construction projects are awarded to five local contractors including JH Construction, Al Nakheel Agriculture and Trading, Boom General Contracting, Elegancia Landscape and AG Middle East. Further, Eng. Jassim Fakhroo explained that the scope of works in these projects includes also implementing infrastructure works such as irrigation, electricity, rainwater drainage, and others. Additional works will also be implemented in some parks including kids play area and service buildings that include prayer areas, toiles, guard rooms, and others.
On the other hand, Eng. Reem Khalid Al Muraikh, Projects Design Manager at the Committee, stated that she is currently working on implementation of designs of three parks on a total area of about 42,000 sq.m. Two of these parks are located in Al Rayyan Municipality including Al Soudan Park on an area of 2300 sq.m, which is planned to open for public in the second quarter of 2022, and Fereej Al Thameed Park to be built on 15,750 sqmt. Whereas the third park located in Doha Municipality at Hazam Al Markhiya is to be built on an area of about 24,340 sq.m and these two parks are scheduled to open in the third quarter of 2022. She also added that Al Furjan Parks are being implemented with the aim of encouraging people of neighborhoods to interact with the environment around them and enjoy the nature. The size of the allocated land is taken into consideration during the design of the parks, as well as the services that can be provided accordingly, such as provision of fitness equipment, kiosks, and various plants that give aesthetic appearance and make the park an attractive and enjoyable spot for residents of the area.
Eng. Reem further added that the contract for construction of three parks is 'design and build' contract, assigned to Al Nakheel Agriculture and Trading Company, who has already started preparatory works on the site.
Eng. Mansour Jafar Al Mosawi, Projects Design Manager at the Committee, stated that design implementation of several parks along a total area of 34,553 sq.m is underway, including Al Thumama Park in Doha Municipality, Al Wajbah Park in Al Rayyan Municipality and three parks in Al Wakra Municipality.
Eng. Al Mosawi added that these projects are assigned to Elegancia Landscape Company, where the preliminary works are underway, and the park will be opened for public in the second quarter of 2022, except Al Wajbah Park, which is scheduled to open in third quarter of 2022.
Regarding the design of Al Thumama Park on an area of about 4,400 sq.m, Eng. Al Mosawi clarified that it is located in an area mixed with residential units, sports and commercial facilities and offices, and is located near two mosques that attract visitors to this area. Therefore, it is designed to match the surrounding environment and contribute to creating a healthy green environment that encourages social interaction of residents, employees and visitors. The Park will include many seating areas and children' play area, in addition to a shared path for joggers and cyclists. It is also taken into account to increase the percentage of green areas and plantation to cover about 70% of the park. The Park is connected from the south and east sides by a 'railway' that currently exists between boundaries of buildings and the park, integrating with the design to facilitate access to the park by bicycle or on foot.
Regarding Furjan Parks at Rawdat Egdaim and Al Mearad in Al Rayyan Municipality, Eng. Jazmine Sheikh, Projects Design Manager at the Committee, stated that the first park is to be built on an area of about 24,000 sq.m, while the second is to be built on an area of 3,520 sq.m. The construction of these parks is assigned to AG Middle East, who has started preliminary works on the site, and the two parks are scheduled to open to public in Q3 of 2022.
Eng. Jazmine added that the location of the park and the surrounding buildings are taken into consideration during the design. For example, during the design of Rawdat Egdaim Park, the area was studied, and the location of the park was considered where it is surrounded by a nursery, a mosque and a commercial complex, and also surrounded by streets from north, east and south. Therefore, it is proposed to implement an alley, which is called 'Sikka', next to the park from the west to integrate with the design of the park and facilitate access. The Park designs include the provision of multiple entry/exit points along the perimeters, considering each neighborhood and their requirements with clear passages to ensure visitors safety and ease of access.
Eng. Maryam Al Kuwari, Projects Design Manager at the Committee, stated that she is supervising the design of several parks in Al Rayyan Municipality including Bu Hamour Park on an area of 5,800 sq.m, Al Sailiya Park on an area of 6,370 sq.m, and Al Muraikh Park on an area of 3,640 sq.m. These projects are assigned to Boom General contracting and are scheduled to open to public in the second quarter of 2022. Eng. Maryam Al Kuwari confirmed that the parks are being designed in line with the area's character, the surrounding buildings and landmark attractions in the premises. For example, the main design lines of Bu Hamour Park are inspired by one of the distinctive elements in the Bu Hamour area, the old markets such as Wholesale Market, Thursday and Friday Market and others. The arches of parks are sketched similar to the designs of traditional market shadings, considering their function in proportion to the use of the park. The design also includes pedestrian and jogging paths to facilitate exercise. Ease of access to the park was considered through walkways connected to surrounding areas, without the need to use cars.
It is worth noting that the Supervisory Committee has previously implemented many central parks and plazas including 5/6 Park, Al Daayen Park, Al Shura Plaza, Post Office Plaza and other projects that contribute to enhance the aesthetic appearance of the cities. These projects are also key factors in improving climate and preserving environment. They also contribute to enhancing the community lifestyle, encourage them to follow a healthy lifestyle and practice sports, especially considering the Covid-19 pandemic that highlighted the urgent need for such recreational destinations.
Supervisory Committee of Beautification of Roads and Public Places in Qatar
The committee works in coordination with several ministries and other entities of the State such as Ministry of Municipality & Environment, Ministry of Transport and Communications, Ministry of Culture and Sports, Qatar Museums Authority, Qatar Railway Company, Private Engineering Bureau among others. This Committee is responsible for five major tasks including construction of central public parks, provision of dedicated lanes for pedestrians and bicycles, development of the Doha Corniche, development of Central Doha, and increasing trees and green areas.
The Committee's work will contribute to enhance sustainability through minimizing environmental pollution, reducing emission of CO2 through minimized consumption and conservation of energy resources. It will also focus on provision of more public transport options aiming at reduced use of private cars and improve lifestyle through clean and safe transportation. It will also work for provision of healthy environment within residential neighborhoods and places of public gatherings through increased afforestation and landscaping, which will greatly help in reducing temperature in cities.