Ooredoo Cup Round 2: Al Rayyan 0 Al Ahli 2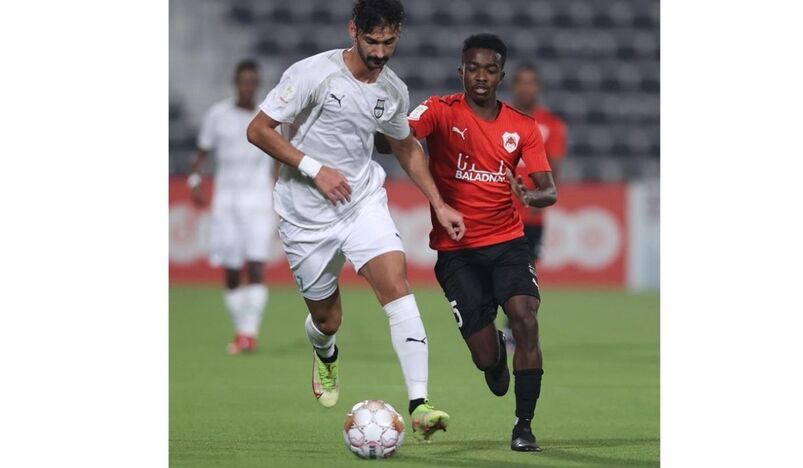 Al Ahli and Al Rayan players in action
Al Ahli beat Al Rayyan 2-0 in Round 2 (Group A) of the 2021-2022 season Ooredoo Cup at the Al Wakra Stadium on Wednesday.
Goals from Mouz Gadelseed (11th minute) and Patrick Eze (56th minute) powered Al Ahli to a commanding win, Al Ahli have four points now Al Rayyan playing their first match in the tournament have yet to open their account.
The match got off to a fast-paced start with both sides creating chances early Al Rayyan's Mubarak Eid Al Nasser blocked a shot by Al Ahli's Al Dokali Al Sayed from close range with a sliding move that pushed the ball away in the eighth minute.
The first goal came when Mouz made the most of a keeper's gaffe by Al Rayyan's Saoud Al Hajri who pushed a short cross to team-mate Yousef Fakharuddin on the edge of the box, Fakharuddin fumbled with the ball that was picked up by Abdulrahman Al Harazi, who spotted Mouz unmarked near the spot-kick area, after receiving a cross from Al Harazi, Mouz easily slotted the ball into the net to give Al Ahli the lead as Al Rayyan coach Laurent Blanc watched from the stands.
Al Rayyan relied on a large group of young players and new faces to gain experience appeared better in the second half but did not take advantage properly.
In the 56th minute, Al Rayyan's Moameen Mutasem with ball in his possession showed lack of experience as Al Ahli's Serbian midfielder Marko Jevtovic produced a sliding tackle to flick the ball to an unmarked Eze the Nigerian forward wasted little time in drilling a shot past the outstretched left hand of Al Hajri to score second goal. (QNA)