Numerous Content Creator Accounts Blocked Suspiciously on Instagram in Qatar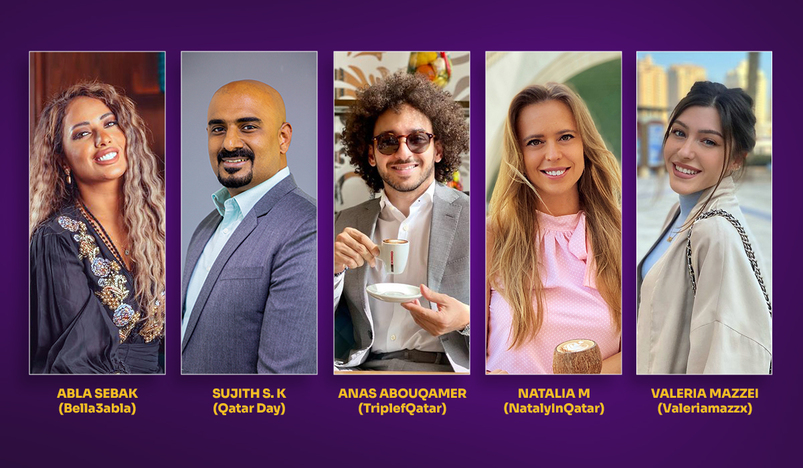 Pictured from left to right, Abla Sebak (Entrepreneur & Influencer), Sujith K. (Digital Marketing Head at Qatar Day), Anas Abouqamer (Triple F Qatar), and Valeria Mazzei (Founder & Creative Director of Venus Karma).
As a content creator each social media page built and managed is an asset, a tool to reach out to a loyal audience who come back to these pages with a certain level of expectation. Unlike most of those who use Instagram to share photos and videos, content creators, vloggers, and lifestyle portals often have paid partnerships and ongoing brand promotions, wherein social media channels such as Instagram, form a crucial component of the social media marketing mix. It takes months, years, 100s if not 1000s of posts with images, videos and more for digital content creators to build an engaging audience ranging usually from 20,000 up to 400,000 followers, who interact with their content daily.
Now imagine waking up to discover that your account does not exist anymore i.e. it has been disabled and that you've been locked out of your account. This is the situation numerous Qatar based content creators have faced over the past few weeks in 2022. Facebook now a part of Meta has a process in place where any violation to their policies etc. is usually notified to the owner of the page via an email or a notification so that they are aware of what went wrong. But with Instagram, this is not the case. The information provided by Instagram is minimal and quite generic. Instagram locks the user out of their account and mentions that the account has been disabled for violating policies, but which policy exactly, this they do not mention. Unlike Facebook Business Manager Support, Instagram does not have chat support which means the most you can do, is to fill up a form and wait for Instagram to review the information you have submitted and pray that you regain access to your account. Despite there being 2 factor authentication and more setup, all it takes is for a few accounts to report you as scam / as a fraud pretending to be someone else and the algorithm in place, causes the account being reported to get blocked and the user's access to the account to be revoked. 
As digital marketers, this can pose a very serious threat as this can cause disruption to existing paid promotion or advertising plans and schedules while directly impacting revenues. It also completely shakes the confidence of content creators and their reliability on Instagram as a marketing platform. Quite obviously, you do not want to be building a social media page, which can go down at any given point, without any warning or proper reason or justification.
Meta once known as Facebook, announced the launch of its MENA region headquarters in Dubai on the 8th of March 2022. Though content creators in UAE see this as a welcome sign, influencers and SMEs in Qatar fear that business users in the remaining GCC countries i.e. Saudi Arabia, Bahrain, Kuwait, Qatar and Oman etc. would not gain access to important events, beta features, updates and support from on-ground account managers etc. with the focus being solely on Dubai or the United Arab Emirates. With the growing impact of platforms such as Instagram and the role they play in marketing, it is quintessential that there is some form of local support available and if not local, at least chat / call support to have issues resolved sooner. 
While talking about the whole experience, Abla Sebak (@bella3abla, CEO & Founder of Luxury Network Egypt and Women In Qatar) renown entrepreneur and influencer in Qatar said "It was an absolute nightmare. I cannot explain how stressful it was. I had messages pouring in on WhatsApp and on Facebook asking me if I had blocked certain users, as this is what they initially assumed, along with those expressing their sympathy and feeling sorry for my situation."
Qatar Day, a lifestyle portal that brings to its audience news and events happening in and around Qatar, along with a combination of original video and image content, ranging from interesting reviews to highlights of events and things to do in Qatar, was also recently blocked. According to the Digital Marketing Head at Qatar Day, Mr. Sujith S. there have been numerous fake accounts posing to be Qatar Day, that had been popping up over the past few months. "Other content portals like Iloveqatar, QatarLiving and WGO have also been reporting this issue of fake accounts from time to time. While it seems as though these deviants had no issues in creating fake accounts pretending to legitimate portals with engaging audiences, it seems to be almost impossible to gain access back to the Qatar Day Instagram account (@QatarDay on Instagram), which had more than 42000 followers. Our tech team and I have been chatting with the Meta Business Support team and while they claim the block on our account is not severe and can be lifted, the process for it seems inefficient and time consuming. At one point, they admitted that they did not know what the next step was, as we were having trouble receiving the email required for verifying our identity. With two factor authentication in place for the account, the process should be simpler for gaining access back to our account. If we have violated a policy, then we need to be notified of what that is, so we can avoid repeating this in the future.
There must be some level of protection in place to avoid this from happening again, when and if we do regain access to our account. The morale of our entire team is in the dumps owed to this and it is our request to Meta MENA to incorporate some if not all these changes and to help us regain access back to our account. We have created numerous support tickets on Meta Business Support, but they keep saying that our account is under review by their colleagues at Instagram and it seems to be a frustrating dead-end." said Sujith S. K.
Anas Abouqamer also known by his Instagram handle (@TripleFQatar with over 31000 followers) was also recently locked out of his Instagram account. According to Anas, even when he was granted back access to his account, his account was blocked numerous times within a matter of a few days. Anas added "If and when you do regain access to your account, your first step must be to change your Instagram password, then to change the password of the email associated with your Instagram account, followed by turning your profile private for a few days and then finally to do a factory reset of all devices being used to access this account. We cannot be sure this works, but these are important precautionary measures to take to ensure that it doesn't happen again. My advice to digital creators out there is to not put all eggs in one basket i.e. do not depend solely on a single social media channel for your growth and reach. Ensure you put in enough effort to grow other social media channels and your audiences on it especially the likes of Snapchat, TikTok, YouTube and Facebook, so that in the event of being locked out of your Instagram account, you do not feel crippled and have options at hand for reaching out to your audience.
Many fellow content creators from the region such as Natalia Mikhalchenkova (@NatalyInQatar), Valeria Mazzei (@valeriamazzx, Founder & Creative Director of Venus Karma) and Abla Sebak (@bella3abla, CEO & Founder of Luxury Network Egypt and Women In Qatar) have faced similar situations where they have been locked out of their accounts / had their accounts disabled."
Upon enquiring with Natalia M. about this situation, she shared "I am very concerned about losing the account, without any possibility to access it for over a week. Was trying all the ways to reach out to Instagram, Facebook, Twitter, filling in numerous forms, but no reply on anything.
''I wish Instagram could have a live chat for such problems cause otherwise it sounds like it is almost impossible to get any feedback from them.  My work and life are pretty much dependent on my social media and to be disconnected like this is impossible. I feel for my friends who are going through the same now. We are all suffering a lot and spending too much time to recover the accounts instead of creating content."
It is very disturbing indeed to see such influencers, lifestyle information portals and digital creators struggling with their Instagram accounts and unable to do what they do best i.e., create and share content, left feeling quite confused and disturbed about the whole experience. More recently on 11.03.2022, M7 Gallery (part of Qatar Museums) had published that their Instagram account had been hacked. As we enter an era where social media channels form a core part of the communication strategy for businesses and individuals alike, it is imperative that social media service providers like Instagram, evolve with the changing requirements of the audiences and creators, who are instrumental for its growth and sustenance. Advertisers leaving out Instagram from media buying plans altogether, can open routes for competitors like TikTok and Snapchat, who would aim to leverage such opportunities and to gain from such situations resulting as a lack of confidence in the sharing and networking service.