New Qatar Vaccination Center vaccinates 10,000 on 1st day of operation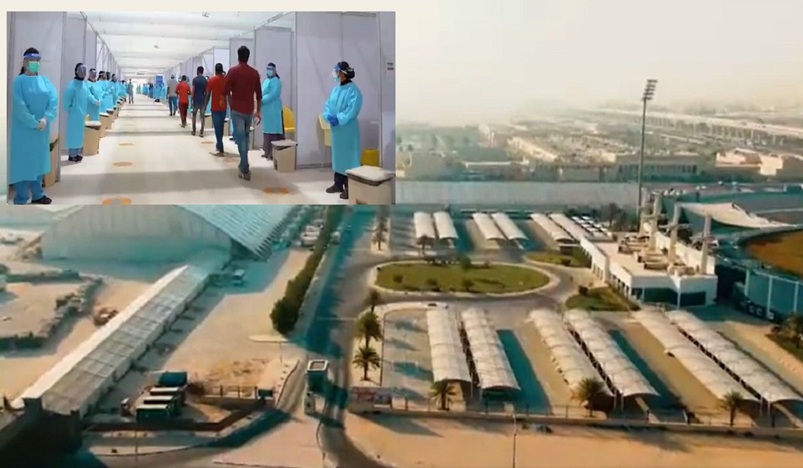 Qatar Vaccination Center in Bu Garn area
The Qatar Vaccination Center, which is dedicated to the business and industry sector in the Bu Garn area, has started administering (Covid-19) vaccines to essential employees in the business and industry sectors since January 9, 2022.
The new center's mechanism of action is to administer Covid-19 vaccines to key business and industry workers.
The opening of the center comes within the framework of increasing the capacity of the national program for vaccination against Covid-19, as it succeeded on its first day of work (9 January 2022) in vaccinating approximately of 10,000 people, according to Dr. Khalid Abdulnoor , emergency medicine consultant at Hamad Medical Corporation and the national leader of the Qatar Vaccination Center for the business and industry sector.
He explained in a statement to Qatar News Agency (QNA) that it is expected that the number of vaccines provided to the target group will be expanded on a daily basis, so that the center's capacity will reach 30,000 doses per day of vaccines against Coronavirus (Covid-19) for qualified people.
He stated that the vaccination center was established as a result of cooperation between the Ministry of Public Health and Hamad Medical Corporation, with the support of the Ministry of Interior, the Ministry of Commerce and Industry and ConocoPhillips Qatar. The centre operates on a pre-appointment system, and companies can book vaccination appointments for their eligible employees by communicating via e-mail: QVC@hamad.qa.
Dr. Khalid Abdulnoor indicated that the center allows the targeted and qualified group to obtain not only the booster dose of the anti-Covid-19 vaccine, but also the first and second doses for those who did not receive them earlier.
He stressed the importance of taking the initiative and making an appointment to get the anti-virus vaccination, because the only factor in addressing the Covid-19 pandemic is taking the vaccine in addition to adhering to preventive measures, as the vaccine contributes significantly to preventing infection or alleviating the severity of its infection.
He also pointed out that the vaccination center for the business and industry sector opens its doors from Sunday to Thursday from 7 am to 5 pm and employs about 500 employees, including 400 medical staff, with 280 vaccination points at one time.
The new center offers a similar set up and operational model to the Qatar Vaccination Center for Business and Industry Sector which was open in Doha's Industrial Area from June to October 2021and has delivered more than 1.6 million first and second doses to employees and key workers in the business and industry sectors.
How to Book Appointments?
The new vaccination center operates according to the system of advance appointments, and the ministry specified the following e-mail: QVC@hamad.qa to communicate to complete the booking process and schedule appointments for eligible categories in the new center.
Source: QNA