Musgrave Launches 1st International Centra Store in Qatar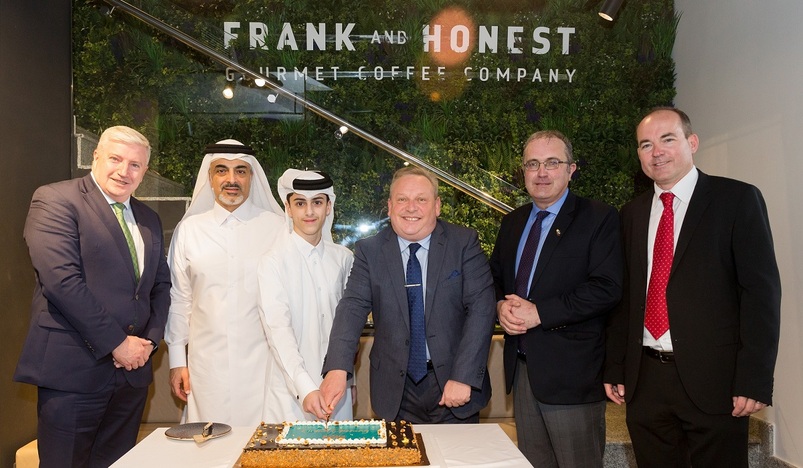 Irish retail group partners with Saleh Al Hamad Al Mana Group
Musgrave, the leading Irish retail, wholesale, and food service company, has announced the launching of its first international Centra store as part of a major expansion by the business in the Middle East. 
Based in Qatar, the new store is owned and operated by Saleh Al Hamad Al Mana Group under a franchising agreement. 
The new Centra outlet, which is located in Doha, represents a unique concept with over 500 sq. m. devoted to food service and just a small proportion of the store's footprint utilised for supermarket space. The impressive outlet includes a range of Musgrave's innovative food sub-brands and concessions, with a large Frank & Honest coffee shop on site alongside Caramico pizza, Moo'd ice-cream, Green Kitchen fresh food to-go and Freshly Baked offerings. 
Commenting, Noel Keeley, CEO of Musgrave, said: "We are very pleased to launch our first Centra store in Qatar alongside our franchise partners, Saleh Al Hamad Al Mana Group. The move represents yet another important milestone for the business as Musgrave continues to strategically expand its presence in the Middle East. As one of Ireland's most trusted brands, we want to share our quality and award-winning products with partners across the world. We are also proud to be able to offer franchise models of our market-leading convenience brands for global markets. As Ireland's leading provider of food retail and wholesale brands, Musgrave offers a unique combination of scale, robust supply chain and logistics expertise, skills in running food sub-brands and concessions combined with a passion for quality Irish produce."
Hisham Al-Mana, Chairman of Saleh Al Hamad Al Mana Group said: "We are delighted to partner with Musgrave to bring this first Centra store to Qatar. The Middle East has a large Irish expat community, while there is also a significant demand in the region for European brands. We are confident that the market leading convenience offering that Centra and the Musgrave brands bring will be highly desirable to the attractive Qatari market. As such, we look forward to working alongside Musgrave through our franchising agreement over the coming years to expand Centra's presence in Qatar, under Centra Supermarkets & Whole Foods, a brand-new add-on to our immense Group F&B division."
Source: PR