MOQ Launches the Exhilarating "Shop, Play, Win" Campaign, the First of its Kind in Qatar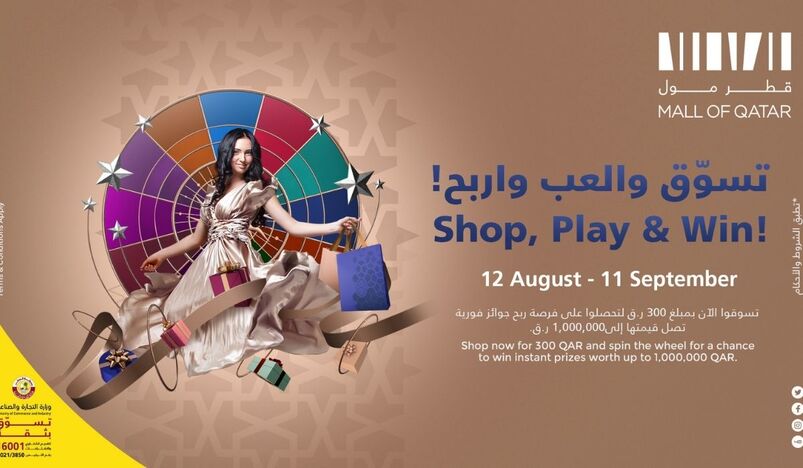 Instant prizes worth up to QAR one million through a Digital draw on two big platforms under strict safety measures.
Mall of Qatar (MOQ), the Nation's favorite destination, has recently launched a new exhilarating "Shop, Play, Win' campaign, implementing a new digital draw style to give the shoppers the chance to win instant prizes of a total value of QAR one million
 Running from 12 August through 11 September 2021, the first of its kind campaign in Qatar is part of Mall of Qatar's ongoing strategy to support the national economy and the Mall's tenants while offering the shoppers a memorable shopping experience. The current prizes campaign comes off the back of several shopping festivals including "Scratch and Win' and 'Shop and Win' which gave shoppers the chance to win instant prizes, in addition to twenty luxurious cars.
 Emile Sarkis, General Manager, Mall of Qatar, said: "Mall of Qatar is thrilled to launch a new campaign during summer to continue our successful mission in activating business to our tenants and allow our shoppers to leverage from their spending in the Mall. we always endeavor to host innovative shopping experiences to give customers more chances to win valuable and instant prizes offered by the Mall and more than 30 stores. This campaign aligns with our vision to enhance our relations with the visitors and add excitement to their experience in Qatar's favorite destination. In addition, we are taking the utmost precautionary measures to secure the safety of employees and shoppers".
 To take part in the campaign, the shopper should spend QAR 300 at more than 400 retail outlets in the Mall. The shoppers can combine their purchase receipts from various retailers to reach this amount to spin the wheel once for a chance to win an instant prize. The maximum cap of receipts submission per day should not exceed QAR 15,000. Terms and Conditions apply.
The 'Shop, Play, Win" campaign is based on digital draw. Two big platforms in two separate areas in the Mall were built for this purpose. Each platform design includes a dedicated area for the digital draw with separate entrances and exits, in addition to dedicated counters with representatives to receive shoppers' receipts. Customers can digitally register via their phones by scanning a QR code placed at different areas at the mall, then submit their receipts, and scan a barcode on the platform via their mobiles to be connected with the big screens on the platforms,  to spin the wheel and win instant prizes. Winners can receive their prizes immediately after the draw.
 MOQ follows the utmost preventive measures to maintain social distancing among participants and shoppers. Dedicated staff and security are always available to support shoppers and supervise the registration and draw process.