Moldovan art exhibition opens at Katara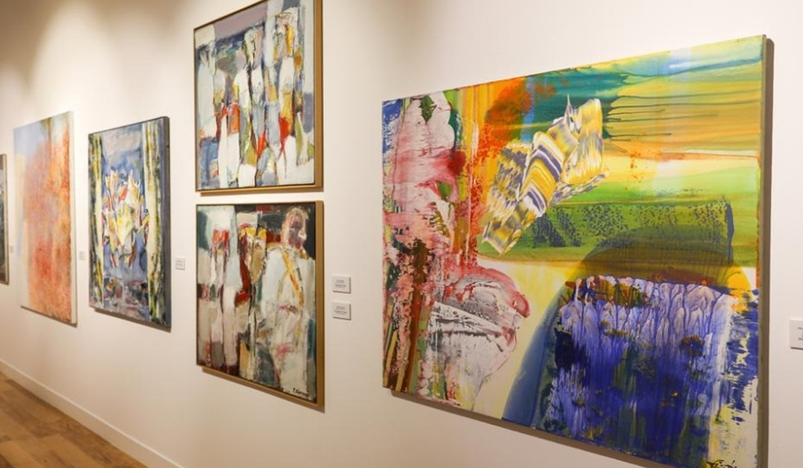 Moldovan art exhibition opens at Katara
General Manager of Cultural Village Foundation Katara, Professor Dr. Khalid bin Ibrahim Al Sulaiti opened the 'Communications' exhibition of 9 Moldovan artists in Building 47.
The opening ceremony was attended by Ambassador Extraordinary and Plenipotentiary of Republic of Moldova to Qatar, H E Victor Tvircun and several ambassadors, members of the diplomatic corps and artists
Commenting on the exhibition, Professor Dr. Khalid bin Ibrahim Al Sulaiti said: "We are pleased with this exhibition, which presents a distinguished artistic experience from Moldova, and an opportunity to learn about Moldovan contemporary art."
He explained that this exhibition, which includes 38 paintings by the most famous artists in Moldova, was the result of cooperation between Katara, the Embassy of Moldova and the National Museum of Moldova.
Dr. Al Sulaiti pointed out that all these artworks presented in this exhibition have previously been displayed in the most famous international exhibitions. 
He stressed that Katara is constantly working on presenting various art exhibitions from different countries in cooperation with the embassies, which contribute to building strong connections between cultures and nations.
In his speech, the Moldovan ambassador said: "This exhibition is considered the first contemporary Moldovan art in Qatar." 
He thanked Katara for the permanent cooperation to present Moldovan events, which reflects the depth of bilateral relations between Qatar and Moldova. He also offered a painting as a present to the Dr. Al Sulaiti.
The Ambassador praised the global cultural role played by Qatar through. He pointed out that Katara conveys to the world the cultural message of Qatar, that art connects people of different languages ??and cultures and makes the world a more beautiful and peaceful place. 
Two of the artists, Theodor Zbernia, Director of the Art Museum of Moldova, and Nikolai Bassio, expressed their happiness to be in this exhibition, stressing that the exhibition will enable the public to discover artworks of Moldovan artists from various art schools. 
The exhibition will be held in Building 47, Gallery 2, until November 15, from 10am to 10pm.