Meet Qatar's Sporting Champion – Nasser Al Attiyah at Special TOD Activation in Doha Festival City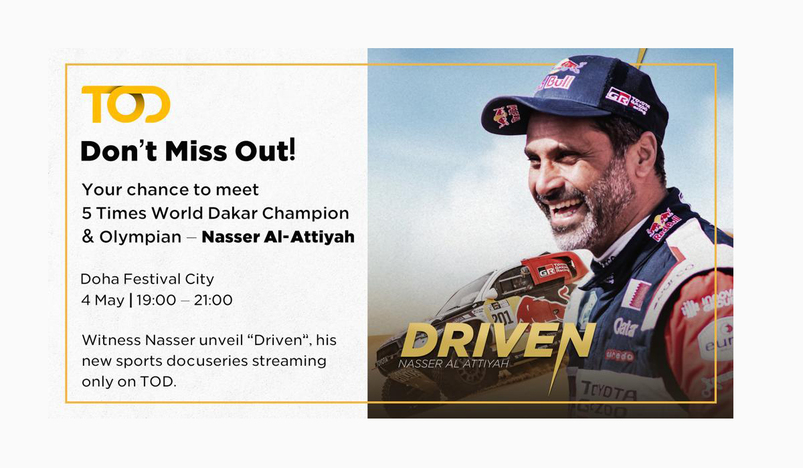 Nasser Al Attiyah
Sports fans throughout Qatar will have the opportunity to get up close and personal with the country's biggest sporting hero – rally driver and Olympics sharp-shooter Nasser Al Attiyah – at a special activation at Doha Festival City hosted by TOD, the MENA region's leading sports and entertainment platform.
Fans will also have the chance to preview the new TOD docuseries – "Driven" chronicling the outstanding rise to fame of the sporting icon, which will be released on May 8th on the platform.
To reach the top in one sport is a huge feat – to get there in two requires something extraordinary. Nasser Al Attiyah has dominated rally over the last decade, winning five Dakar titles and competing for his country at the Olympics in shooting – and that's just the start of his story. "Driven" – the four-part series follows Al Attiyah through his latest Dakar victory and reflects on his remarkable life and career. 
The activation will be held from May 4 to May 6, at Ground Floor (next to Vox Cinemas), DFC, with Nasser joining in on Thursday, May 4th, from 7pm to 9pm, to promote his docuseries and meet his fans.