Max Verstappen Comes From 20th to Second in Russia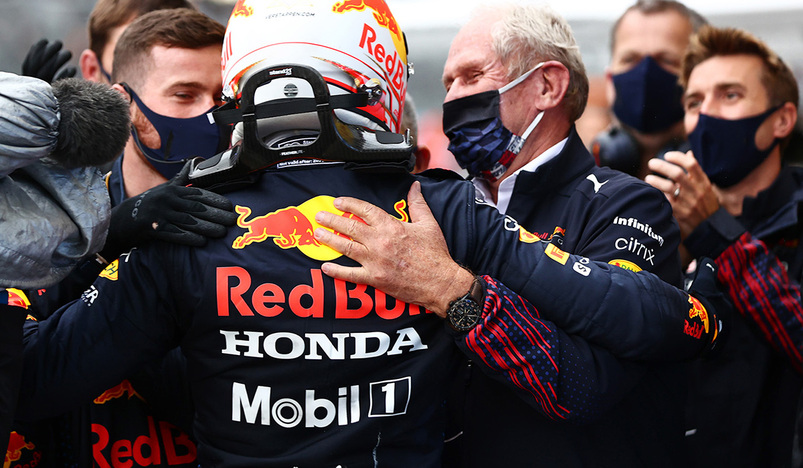 Max Verstappen Comes From 20th to Second in Russia
When the reviews of the Formula 1 World Championship are tallied, the effort Max Verstappen put forth to post an unlikely podium finish in Sunday's Russian Grand Prix could wind up playing a large role in determining who claims the title.
Verstappen started last in the 20-car field after a pre-race engine change, but the Dutchman never wavered as he climbed through the field to finish second in Sochi. And on a day where Lewis Hamilton earned his 100th career win, The Red Bull Racing driver's podium charge kept him to within two points of the series leader after 15 races.
Starting 20th, Verstappen clambered all the way to 11th by Lap 14 and settled in near the top 10 before pitting at the halfway point of the 53-lap race. He found himself in a battle with Fernando Alonso for sixth with five laps to go, when Mother Nature changed the story line.
Rains initially started to fall only near Turn Five, prompting Verstappen to be one of the first drivers to dive onto Pit Lane for intermediate rain tires. The move paid off a lap later as the rains fell harder, turning the street course into a skating rink where grip was in short supply. Verstappen moved from seventh to third on his first lap after getting the rain tires, then moved to second when early-race leader Lando Norris spun.
The rains had the opposite effect on his Red Bull teammate as Sergio Perez – who led briefly near the midpoint of the race – passed Calos Sainz for third on Lap 48, but finished ninth after getting caught out by the rain. The Scuderia AlphaTauri pairing of Pierre Gasly and Yuki Tsunoda finished 13th and 17th respectively after starting outside of the top ten.
Verstappen yielded seven points to Hamilton on the day, dropping him two points behind the Mercedes driver in the championship standings. Perez maintained fifth in the standings while Gasly held on to ninth. Red Bull Racing is second, 33 points behind, in the Constructor's Championship, while AlphaTauri continues to run sixth in the standings. The series will have a week off before heading to Istanbul for the October 10 Turkish Grand Prix
Toyoharu Tanabe
Technical Director, Honda F1
"This was an exciting race with a chaotic finish when the rain came in the final laps. Max had already made up several places, after starting from 20th on the grid and then he and Red Bull Racing made just the right strategy call to bring him for rain tires, which allowed him to pass more cars and finish second. That's a very positive result for the championship, considering we took a penalty and had to start from the back row, because although Hamilton has retaken the lead, he is only two points in front. Checo (Perez) did a very good job of managing his tires in a long first stint and had a really good race, but he was unlucky to be caught out by the heavier rainfall and dropped to ninth. The two Scuderia AlphaTauri drivers were unable to make up places, stuck in a DRS train and it is somewhat disappointing therefore that they were unable to score any points. There are still seven races to go and it will be a tough battle for the championship, but for now, we are just focusing on the next race in Turkey."
Max Verstappen - Red Bull Racing Honda
Start 20th, Finish: 2nd
"Wow, we will definitely take that result! Of course to come from last to second is very good and when I woke up this morning I definitely didn't expect this result. To finish where we did with the penalty we had, we didn't lose as many points as we could have so as a Team we did a really good job. It was a crucial call to change to the inters, it was really slippery on track and we made a great decision with the timing and took the right lap to pit. A lot of things can happen when you're starting from the back of the grid, especially on the first lap when other cars are fighting each other, but we stayed out of trouble, kept it clean, and managed our race very well. The race itself was not very easy, it was difficult to pass other cars and once you got stuck it was easy to damage your tires but luckily in the end the rain helped us make the last jump in positions."
Sergio Perez - Red Bull Racing Honda
Start: 8th, Finish: 9th
"We were on for a podium today so I decided to take the risk in staying out on the slicks instead of pitting for inters. In the first and third sector it was pretty dry and you could get temperature into the tires, so if it then dried up those of us on the slicks would have made it work and those on the inters would have seen their race destroyed. In hindsight the slick wasn't the right tire and ultimately the timing of the rain in the race meant some people got lucky today and others didn't. We were on for a great result with a podium through pure merit and despite a slow pit stop we still managed to come through the field to third but sometimes this is how racing is. The issue with the stop wasn't a human error and I spoke with my pit crew after the race to check they were okay because we're obviously all disappointed. As a Team we still walk away with a lot of points today and yes, it is frustrating for me, but I feel like I got so much out of the car which is only promising going to Turkey in two weeks' t
ime."
Pierre Gasly - Scuderia AlphaTauri Honda
Start: 11th, Finish: 13th
"It's not been a great weekend for us really, we missed a big opportunity yesterday in Qualifying and again today we made the wrong decision with the slicks, which unfortunately means we finished out of the points. The pace was strong here and I think we had a good first stint, but we just didn't utilize all the opportunities given to us this weekend, which is a real shame. We need to review everything from today and work out how we make the most out of these conditions in the future. It's a weekend to forget, but we've got a good team and I'm confident we can bounce back at the next one."
Yuki Tsunoda - Scuderia AlphaTauri Honda
Start: 12th, Finish: 17th
"It's obviously a disappointing day. I've struggled with the balance of the car all weekend and it was the same today in the race, especially on the first lap where it was hard to keep it on the track. I just need to reset after this weekend and work on my baseline performance, so I can start finishing in the points again."

SOURCE: PRESS RELEASE