Man burns Holy Quran outside mosque during Eid al-Adha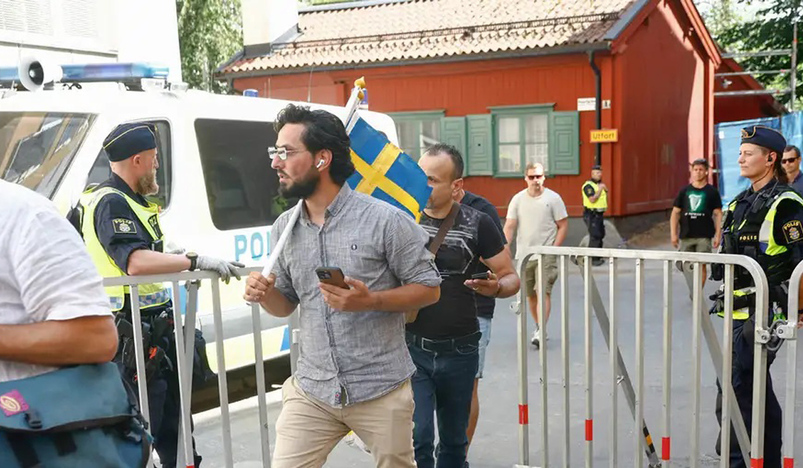 A 37-year-old man requested permission to burn a Quran in front of the central mosque in the Swedish capital
Two men stood outside Stockholm's central mosque on Wednesday and burned a Quran, following the go-ahead given by a Swedish court, to coincide with the beginning of the Muslim holiday of Eid al-Adha.
The man who had requested permission for the action, a 37-year-old Iraqi refugee who wants the book banned, tore out pages from the Quran, wiped them on his shoe and set some of them on fire, Swedish public broadcaster SVT said.
Around 200 people gathered to watch, including counterprotesters. One man was detained after he tried to throw a rock.
Permission was given by a court on Wednesday. Sweden rarely bans protests, even ones that might be considered forms of incitement in other countries. The burning of the Islamic religious book took place during Eid al-Adha, one of the holiest days of the year for Muslims.
The book burning may further jeopardize Sweden's attempts to overcome Turkey's opposition to its NATO membership bid. Turkish President Recep Tayyip Erdogan responded to a previous Quran burning by saying Sweden should not join the alliance.
Turkish Foreign Minister Hakan Fidan condemned the act in a tweet.
What did Swedish authorities say?
The court had said that there must be a clear connection between security problems and the planned gathering. Police deemed this to not be the case, according to Swedish broadcaster TV4.
"The security risks and consequences that the authorities can see connected to a Quran burning are not of such a nature that according to the current law they give grounds for a decision to reject a request for a general gathering," the court said.
"Police authorities, therefore, give you permission for the requested gathering," it added.
Morocco withdraws envoy
In response to the incident, Morocco withdrew its ambassador to Sweden on Wednesday for an indefinite period.
Morocco's Foreign Ministry also summoned Sweden's charge d'affaires in Rabat and expressed the kingdom's "strong condemnation of this attack and its rejection of this unacceptable act," the state news agency reported. 
Sweden's book-burning problems
The burning of the Quran has become a mainstay of far-right extremists in Sweden, with Danish-Swedish far-right politician Rasmus Paludan having made a name for himself with such acts. But Paludan was not behind Wednesday's action.
Although Sweden rarely bans protests, or book burnings, a planned anti-NATO demonstration that would have also included a Quran-burning rally, was blocked by Swedish police in February.
Before that, far-right extremists had burned a Quran outside the Turkish embassy. This led to Turkey canceling a visit by Sweden's defense minister to Ankara, and President Erdogan saying Sweden can not count on Turkey's support.
Swedish PM still hopes for NATO membership
Despite the ongoing opposition from Turkey and the repeated burning of Qurans, Swedish Prime Minister Ulf Kristersson was still adamant that Sweden would be able to join NATO.
"Sweden will become a NATO member," he said in an interview with SVT, albeit accepting that it might not happen by the time NATO meets for its next big summit in Vilnius.
"We've also said that we respect that it is Turkey that makes Turkish decisions and it is good we now have another meeting ... and maybe we can address the odd question mark ahead of the Vilnius summit in that kind of conversation," Kristersson said.
Regarding Wednesday's Quran burning, Kristersson said he would not speculate about how it would impact Sweden's NATO prospects.
"It's legal but not appropriate," he added.
Reuters contributed to this article.
Edited by: Louis Oelofse