Lulu launches 'India Utsav' to mark 75th anniversary of India's independence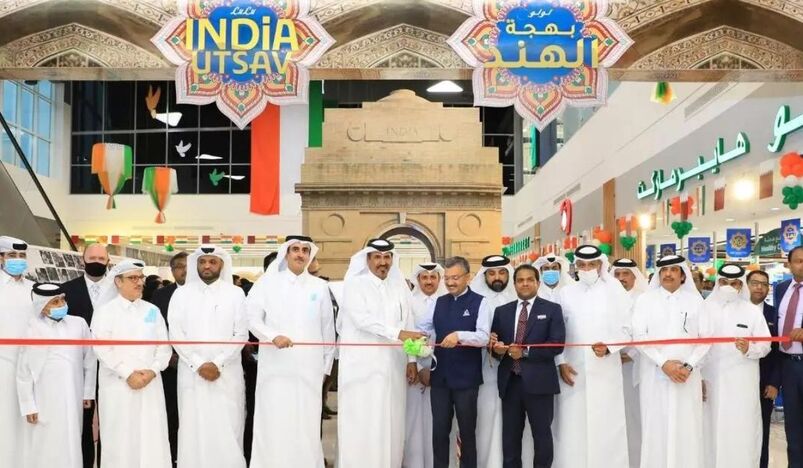 Lulu announces event to honour 75th anniversary of India's independence.
Under the banner of 'India Utsav 2022,' Lulu Group has announced the first-ever regionally simultaneous launch of its commemoration of the 75th anniversary of India's Independence — Azadi Ka Amrit Mahotsav.
The iconic Indian Independence Day event "India Utsav" was inaugurated simultaneously across all Lulu shops in Qatar and other GCC nations yesterday.
India Utsav is a retail event that brings alive the 3Cs of the Indian experience at Lulu: culture, commerce, and cuisine. In addition, it's a great example of the solid economic links between Qatar and India.
The festival in the Qatar region was inaugurated by Ambassador of India to Qatar H E Dr. Deepak Mittal at Lulu Hypermarket, Ain Khaled branch yesterday in the presence of many dignitaries, including First Vice-Chairman of Qatar Chamber Mohamed bin Ahmed Twar Al Kuwari, Sheikh Mohamed bin Ahmed MA Al Thani, Abdulla Al Kuwari, Ibrahim Almalki, Director of Lulu Group International Dr. Mohamed Althaf and a host of important guests.
H.E. Dr. Deepak Mittal, the Indian Ambassador to Qatar, was pleased by Lulu Hypermarket's decision to host an Indian festival at all of its stores in Qatar and the other GCC countries. "It is an extraordinary moment for every Indian citizen to celebrate the 75th Anniversary of India's Independence. Lulu has been playing an important role in promoting Indian brands in the GCC. So I am very happy to be here for inaugurating the festival," said the Ambassador.
He said that Lulu has been playing major role in promoting food security in Qatar even during challenging times during past few years. 
"The festival is showcasing so many varieties of products which have been imported exclusively from different parts of India, including Jammu, Kashmir to northeast and southeast of India," said the Ambassador.
Fruits, fresh veggies, millets, and other vegan-friendly sources of plant-based protein would all be available at the event, he promised.
First Vice-Chairman of the Qatar Chamber (QC) Mohamed bin Ahmed bin Twar Al Kuwari said that Lulu Hypermarket provided a broad selection of Indian food items, including fresh fruits and vegetables in colourful packaging, throughout the duration of the festival.
"Lulu Hypermarket is very famous in its promotion offering products on competitive prices. It always offers something new to its customers. We are grateful to Lulu for supporting our local market," said Al Kuwari.
Director of Lulu Group International Dr. Mohamed Althaf said that the festival aims at celebrating Indian culture on the occasion of the 75th anniversary of India's Independence.
"Being a major player in Qatar-India relationship, Lulu Hypermarket is taking this opportunity not only to promote Indian products to enhance trade relations between two countries but other ties as well like cultural and cuisines," said Althaf.
He said that the diplomatic relations between Qatar and India is going to mark 50 years, making two countries to be closer. "Many new shipping routes were opened during past five years. Now we have direct trade relationship between Qatar and India which enhance further trade ties between two countries," said Althaf.
Regarding food security, he said that India has got a major role to play in Qatar by exporting foods items in a large quantity, which is being recognised by people including Indian expatriates, Qatari citizens and residents of other countries.
"This is one of the major events we are hosting in this new branch of Lulu Hypermarket. The festival-related offers are made available in all the 18 stores in the region," said Althaf.
In honour of India's 75th anniversary of independence, the "India Utsav" will bring an exciting new shopping event to Lulu, complete with regional cuisine trails, incredible deals on everything from perishables to household goods to clothing for the upcoming holiday season.
For this beloved and immersive shopping event, Lulu has flown in numerous special Indian items, including a large selection of culinary products, an agri-produce line with fresh fruits and vegetables, and a variety of meats and seafood.
In the hot food department, Lulu chefs have prepared a wide variety of traditional specialties, sweets, and street food treats. Popular items from India's high streets, as well as a handpicked selection of designer garb perfect for celebrations, are offered to visitors.
Over 3,500 fresh fruits, vegetables, meats, packaged foods, household supplies, and traditional clothing items like sarees, churidars, and more are included in this year's Lulu offer, all of which are imported directly from India. Numerous hot meal items are also freshly produced every day.
A wide variety of genuine Indian dishes, including Lulu's famous biryanis, savoury curries, popular street snacks, and traditional desserts, will be on sale during the event.