LEISURE Achieves ISO Certifications For Quality And Occupational Health & Safety Management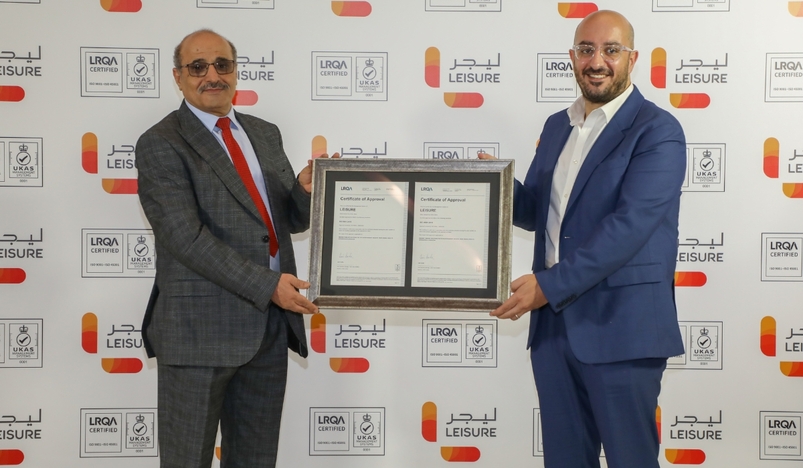 LEISURE achieves ISO certifications in Quality and Safety Management
12th November, 2023; Doha, Qatar: LEISURE, a pioneer in the entertainment industry and managed by ePROJECTS has achieved two ISO certifications, celebrating the company's commitment to the highest standards of Quality Management and Occupational Health and Safety. This unprecedented acquisition of the coveted certifications is a testament to the company's dedication to world-class quality management principles in order to deliver captivating experiences in a safe, welcoming, and high-quality environment.
LRQA Quality Assurance and Inspection Middle East, which independently evaluated Leisure's operations, presented the ISO 9001:2015 certification for Quality Management System (QMS). This certification signifies LEISURE's systematic approach to meeting and exceeding customer expectations while maintaining consistent quality in all processes, products, and services. Additionally, LRQA awarded the ISO 45001:2018 certification for Occupational Health & Safety Management System (OH&S-MS), recognizing LEISURE's efficient method to measuring and improving occupational health and safety.
With the invaluable management of ePROJECTS, LEISURE successfully obtained these certifications. This achievement demonstrates LEISURE's capacity to consistently offer services that satisfy consumers and in accordance to the highest European safety standards 'EN 13814'; pertaining to ride design, manufacturing, operations, and inspection for amusement parks, while improving through monitoring and analyzing business procedures.
Celebrating this milestone, Sherif Elbassiouny, LEISURE's Managing Director and founder of ePROJECTS, stated: "One of ePROJECTS team expertise is Managed Services and this is our capacity here at LEISURE. Both teams of ePROJECTS and LEISURE have worked relentlessly to achieve this mile stone making LEISURE the first entertainment service provider in Qatar to be awarded these two certifications. This accomplishment underscores our commitment to building global entertainment destinations that adhere to quality, health, and safety principles by leveraging technology and innovation to deliver pioneering concepts."
Mohamed Hamdi Business Manager from LRQA Quality Assurance and Inspection Middle East said: "LRQA has assessed numerous organizations and businesses across the world in terms of quality, security, and innovative principles, ensuring that these businesses leverage best practices and new technology to add value to the region. As a trusted adviser and technical expert throughout the certification process, LRQA is pleased to have awarded LEISURE with the two ISO certifications. Part of our strategy relies on embracing technology, and this strategy is realized through tangible actions taken by LEISURE."
Located in Doha Festival City, LEISURE Parks comprises of three indoor-outdoor theme parks: ANGRY BIRDS WORLD™, SNOW DUNES™, and VIRTUOCITY™. It is noteworthy that LEISURE has been operating these parks in Qatar since 2018 and is managed by ePROJECTS, which provides best-in-class entertainment and edutainment solutions, along with a variety of regional and global experiences in the industry. Additionally, ePROJECTS boasts a portfolio of 100+ projects encompassing a wide range of services, including theme parks, project management, Managed Services & conference and exhibition organization management.