Khazaen signed an investment agreement worth 50 million USD in the logistics sector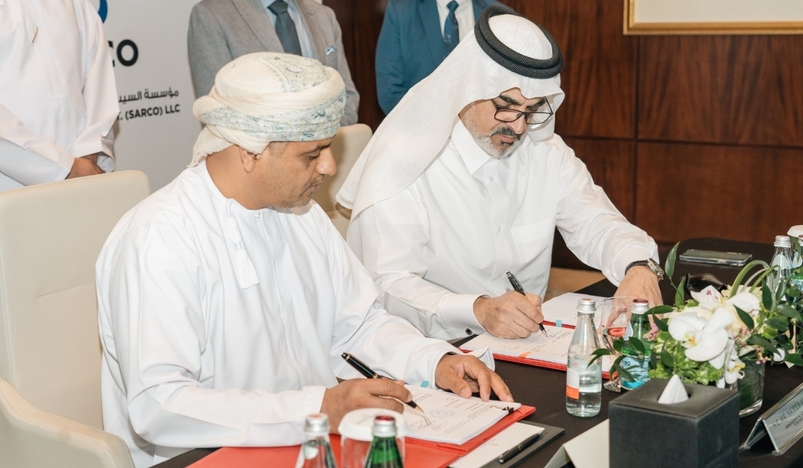 Khazaen signed an investment agreement worth 50 million USD in the logistics sector
Khazaen continues to attract foreign direct investments.
Khazaen signs an investment agreement with Al Seeb Technical (SARRCO), a subsidiary of Al Mana Holding – Qatari Group - to establish an integrated logistics center that offers storage and distribution services.  
The total investment value is estimated to be 50 million USD (19 million OMR).
Total project area is 37,000 sqm.
Total investment value in Khazaen Economic city has reached over half billion USD in different sectors as Logistics, Food, Industrial, Pharmaceutical, Energy and Residential. 
Signing Parties
Eng. Salim bin Sulieman Al Thuhli, Chief Executive Officer of Khazaen Economic City. 
Hisham Saleh Al Hamad Al Mana, Chairman of SARCO. 
Main Agreement Attendees are HE Najeeb bin Yahya Al Balushi, Oman Ambassador to the State of Qatar. And Mr. Ishaq bin Khalfan Al Busaidi, the Head of the Commercial Representative of the Sultanate of Oman in Qatar. 
Khazaen Economic City: 
Khazaen is an integrated economic city being developed Barka, Al Batinah South Governorate, Sultanate of Oman. The project is considered the first of its kind as an integrated economic zone and a free zone being developed in partnership between the public and private sector. Located strategically on the Muscat Expressway, the main growth corridor in Muscat and South Al Batinah South Governorate, as the corridor connects it to Muscat International Airport, Sohar Port and Al Suwaiq Port. Among the most prominent Khazaen strategic projects are Khazaen Dry Port and the Food City, which holds Khazaen Central Fruits and Vegetables market. Pharma City and Labour Villages. Also, Khazaen will connect to future railway networks, as a promising integrated economic city in key-driving sectors. 
Al Seeb Technical (SARCO): 
Al-Seeb Technical company (SARCO) is one of the leading companies in Qatar and the GCC, SARCO business integrates several sectors, including retail, distribution, trading, contracting, real estate. SARCO is one of the largest companies in the market, due to its strong presence in the fields of marketing, sales, distribution, and solid relationships with customers. SARCO activities include electronics, home appliances, office technologies, luxury watches, air conditioning solutions, mobile phones, IT devices and project management. It is also the official distributor of several leading brands in the world such as Samsung, Casio, citizen, Haier, Acer, candy, BenQ.