Katara Hosts Iranian Cultural Exhibition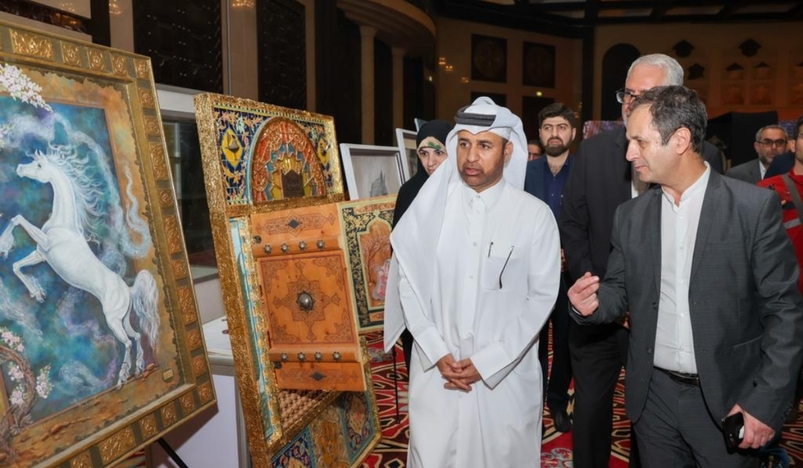 Iranian Cultural Exhibition
The Iranian Cultural Exhibition, currently being held at building 12 of Katara Cultural Village Foundation, showcases a wide range of Iranian cultural and artistic aspects that will run until Dec. 18, 2022.
The exhibition that comes within Katara activities associated with FIFA World Cup Qatar 2022 was inaugurated by the General Manager of Katara Cultural Village Foundation Dr. Khalid Ibrahim Al Sulaiti in the presence of HE Ambassador of the Islamic Republic of Iran to the State of Qatar Hamid Reza Dehghani.
The exhibition includes artistic segments that range from various crafts to handcrafts highlighting the authenticity of the traditional arts that are evidently illustrious in different Iranian regions, including the art of making rose water, saffron, the art of the ring, brass, handmade carpets, traditional textiles, painting, and engraving on metals, along with the Iranian traditional costume made of pure silk and embroidered with gold and silver threads, and reflects an ancient civilization, along with a combination of cultural activities, artistic ceremonies, and the associated craft workshops, the most prominent of which is the Iranian music performed by one of the artistic bands that will embark on offering music evenings reflecting the rich Iranian artistic culture that combines authenticity and renewal representing the cultural diversity that different provinces and regions in Iran abound.
On the other hand, Oud Instrument Exhibition held at Katara Oud Center witnessed a big turnout from those who really adore this musical instrument and the exhibition includes playing the oud three times a day.
(QNA)