Jordan's crown prince ties the knot with Saudi architect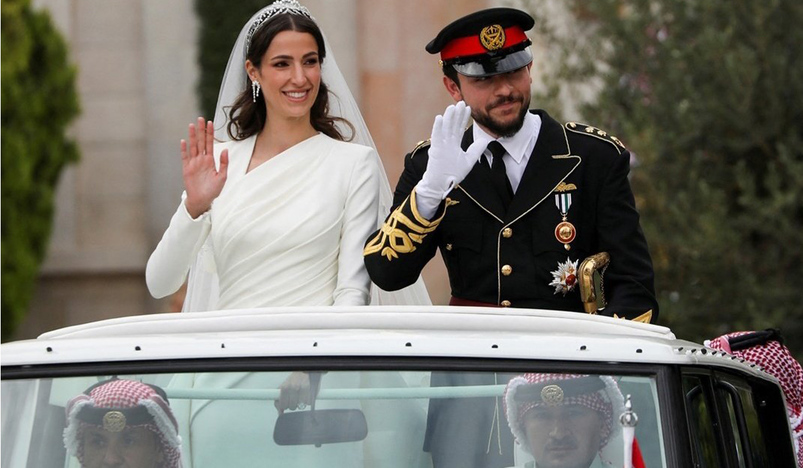 Royal wedding
Royal wedding takes place at Zahran Palace in Jordanian capital
Jordan's Crown Prince Al Hussein bin Abdullah II married Saudi heiress and architect Rajwa Al Saif on Thursday in a wedding attended by global royalty. 
The wedding took place at Zahran Palace in the Jordanian capital Amman with King Abdullah II, Prince Hassan bin Talal and the bride's father as witnesses.
Following the wedding ceremony, state-run television reported that the crown prince and his bride travelled through the capital accompanied by a royal motorcade to Al Husseiniya Palace, where a reception and banquet were held.
Immediately after the wedding ceremony, a royal decree was issued to bestow the title of princess on Al Saif.
The King and Queen hosted a wedding reception at Al Husseiniya Palace attended by more than 1,700 guests from various countries, including state leaders.
King Abdullah has four children: Crown Prince Hussein (29), Princess Iman (27), Princess Salma (23) and Prince Hashim (18).
Prince Hussein is the legitimate heir to the Jordanian throne, as stated in the first paragraph of Article 28 of the Constitution.
Crown Prince Hussein's wedding ceremony was attended by Malaysian King Al-Sultan Abdullah Ri'ayatuddin Al-Mustafa Billah Shah, Dutch King Willem-Alexander, Iraqi President Abdul Latif Rashid, Lebanese Prime Minister Najib Mikati, Kuwait's Crown Prince Mishal Al-Ahmad Al-Jaber Al-Sabah and US President Joe Biden's wife Jill Biden and her daughter Ashley Biden.