Israel battles with one of its largest wildfires near Jerusalem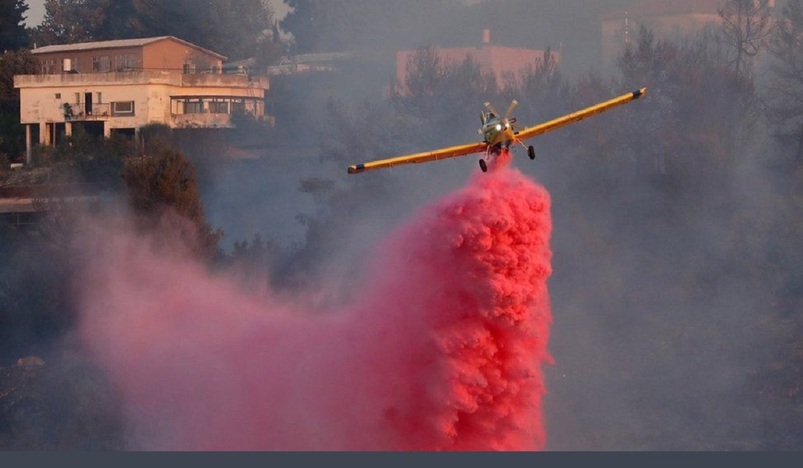 Israel battles with one of its largest wildfires near Jerusalem
Israeli firefighters are battling a massive wildfire west of Jerusalem that has burned 2,000 hectares (5,000 acres) of forest over the past three days.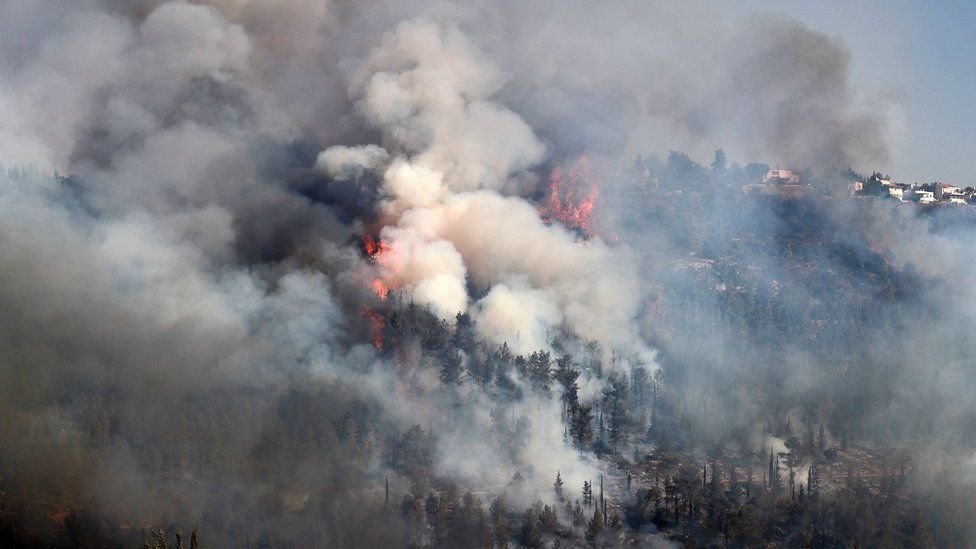 The blaze appeared to have been brought under control on Sunday night but strong winds and low humidity caused it to regain intensity on Monday.
About 10 firefighting aircraft have been deployed to help put out the flames.
Authorities were forced to evacuate about 2,000 residents of nearby towns and villages as a precaution.
Israel's foreign minister also asked neighbouring countries for help.
Strong winds and low humidity caused it to regain intensity on Monday.
Residents were evacuated from several communities, including Givat Yearim.
Greece and Cyprus responded with offers to send firefighting aircraft, officials said, though it was not clear if they would be needed.
On Tuesday morning, firefighters were reportedly racing to put out dozens of hotspots, with winds forecast to pick up in the afternoon.
"We are deployed in many areas because the winds could bring the fire to new places," Israel Fire and Rescue Services official Niso Guetta told Army Radio.
Israel's government requested assistance from several neighbouring countries.
The wildfire has destroyed 2,000 hectares of forest in the Jerusalem Hills.
The blaze sent a plume of thick black smoke over Jerusalem, and residents have been advised to limit their outdoor activity because of the very high pollution levels.
The wildfire is one of the largest in Israel's history, but so far no-one has been killed. In 2010, 44 people were killed by a fire on Mount Carmel, in the north of the country, that burned 2,500 hectares.
The wildfire is one of the largest in Israel's history.
Residents of Jerusalem were advised to stay indoors because of the very high air pollution.
Fire and Rescue Services Commissioner Dedi Simchi has said the fire was caused by humans, but investigators do not know yet if it was arson or negligence.
Its rapid spread has been aided by the dryness of the vegetation in the Jerusalem Hills after a relatively dry winter and a hot summer.
"The climate crisis will make such events more frequent and powerful, and Israel is particularly sensitive to drought and warming," Environmental Protection Minister Tamar Zandberg warned during a visit to a fire service command centre, according to the Times of Israel.
The world has already warmed by about 1.2C since the industrial era began and temperatures will keep rising unless governments around the world make steep cuts to emissions.
Source: BBC News